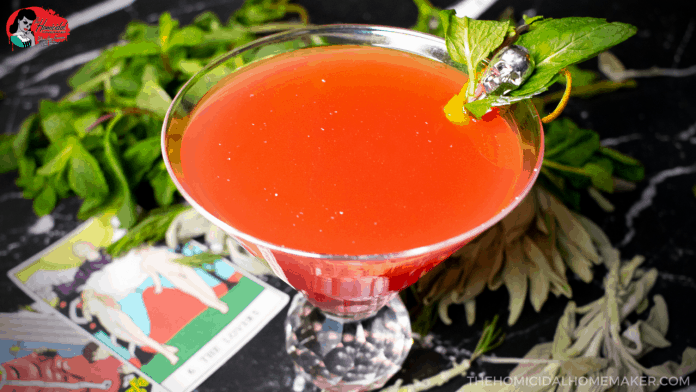 Enchant your Valentine with my recipe for a shimmering The Love Witch cocktail – it only takes a few ingredients and the no-fuss prep makes it a breeze to put together!
Much like Elaine's bewitching concoction of berries, vodka, and hallucinogenic herbs, this cocktail uses similar ingredients (minus the hallucinogens…sorry!). Serve it in a pretty vintage or 60's-style glass, or in true The Love Witch fashion…a good, old-fashioned jar (if you know, you know…).
Last month, Shudder announced that their original fan-favorite series The Last Drive-In will host its first-ever Valentine's Day special, Joe Bob Put a Spell on You, premiering live on Friday, February 12th, on the Shudder TV live feed at starting at 6:00 PM PST.
Anyone who is familiar with my blog already knows that I am a huge fan of Joe Bob, and a huge fan of The Last Drive-In – I was one of the people who was campaigning hard when Shudder first hinted that Joe Bob might be returning to TV. I even cooked up a few recipes for the inaugural The Last Drive-In special. And then, an actual dream came true for me last year, when Joe Bob and Darcy named The Homicidal Homemaker as a recipient of a Silver Bolo Award!
Every time there is a special, or a new episode, of The Last Drive-In, it's a huge deal for my family. We always get together and watch the episodes, and it's just been such a highlight for us, especially during the pandemic when not much else had been going on. So I was delighted to see that a Valentine's Day special was on the horizon, as I always love making morbid treats to enjoy with my family while watching horror movies. It's pretty much a tradition in my household.
Then, today, I saw that our favorite drive-in duo will now be joined by a very special guest – Anna Biller, director of 2016's The Love Witch will be joining Joe Bob and Darcy for a double-feature of cinematic treasures centered around love, lust, gore, and good old drive-in nostalgia. While the film selections are still a secret at this time, I felt that it was appropriate, and so long overdue, to make a cocktail inspired by The Love Witch to celebrate.
In the film, Elaine concocts a love spell of of vodka, berry juice, and of course, a healthy dose of hallucinogenic herbs, so to fully embrace the spirit of the film, one should probably use vodka in this cocktail. But being that I want to show some love to my sponsor Sangre de Vida Tequila, I am using tequila in this particular cocktail. But please feel free to substitute your spirit of choice.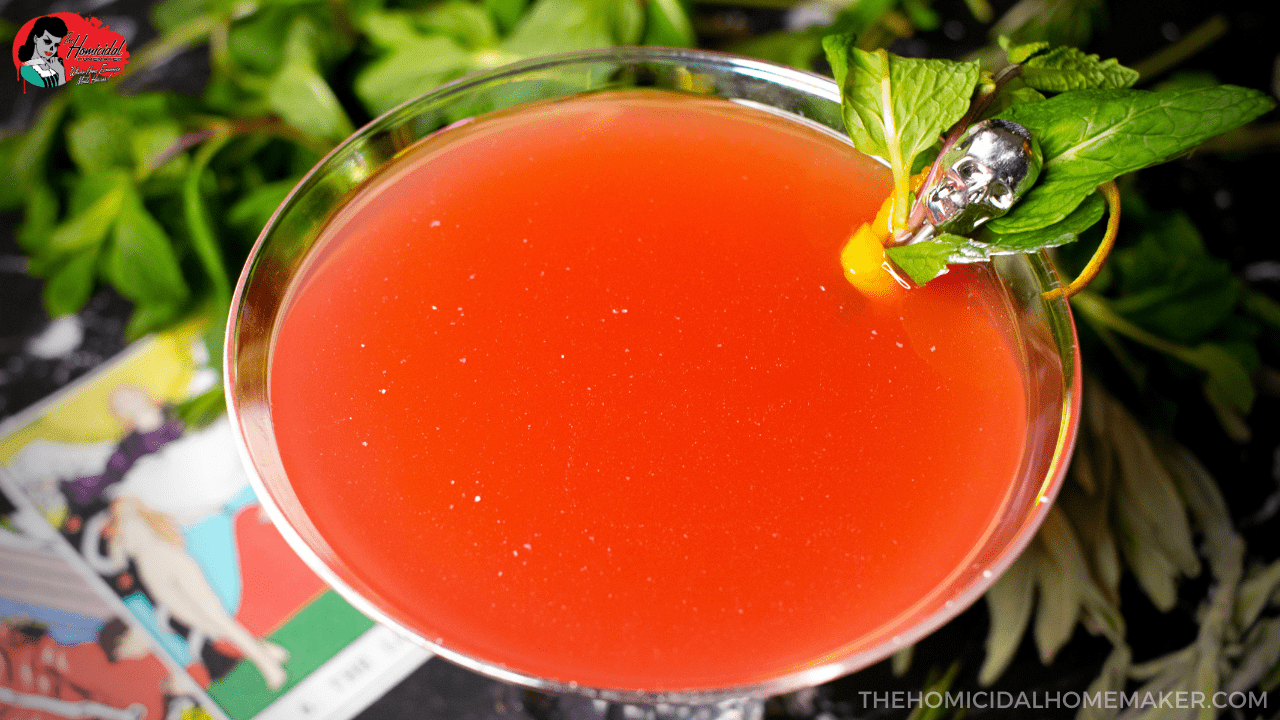 The Love Witch Cocktail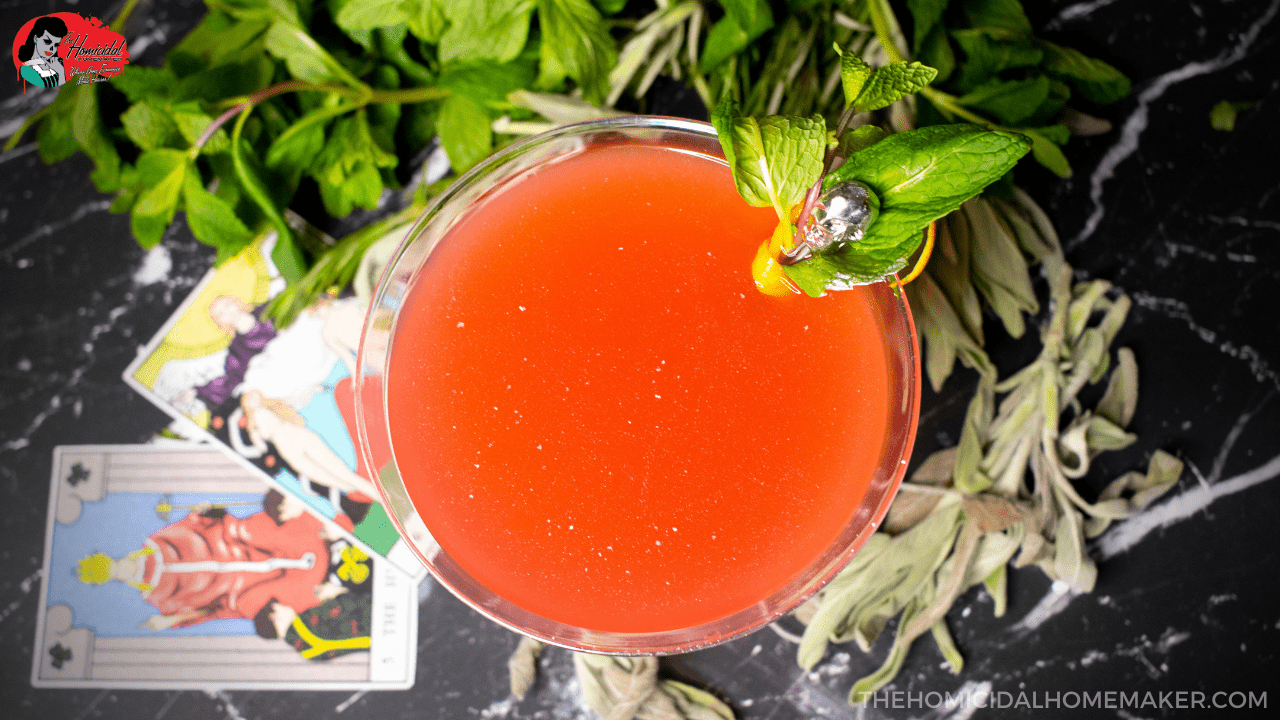 What You Need
For the Cocktail
1/4 Cup fresh berries of choice (I used strawberries & raspberries)
1 1/2 oz Sangre de Vida Blanco Tequila (please see note about vodka)
1/2 oz Peach Schnapps
3 oz freshly-squeezed red grapefruit juice
1/2 oz herbed simple syrup
Ice
Pinch of edible pearl luster dust
Fresh "hallucinogenic" herbs, for garnish (I used mint, sage, and rosemary)
'Hallucinogenic' Herbed Simple Syrup
1/2 Cup water
1/2 Cup granulated sugar
1 sprig fresh rosemary
1 large sprig fresh mint leaves
Method
For the Herbed Simple Syrup
1
Fill a small pot with the water, granulated sugar, and the fresh herbs. Cook over high heat, stirring occasionally, until the mixture comes to a boil, then reduce to medium-high heat. Once the sugar has dissolved, remove the mixture from the heat and allow to cool for at least 30 minutes. Strain the mixture into a sanitized glass container, and store in the refrigerator.
For Each Cocktail
2
Muddle the fresh berries in the bottom of a cocktail shaker. Add ice, tequila, peach schnapps, grapefruit juice, simple syrup, and luster dust. Shake well.
Strain into a chilled martini glass (or mason jar) and garnish with fresh herbs.
While in the film, Elaine uses vodka in her concoction, I am choosing to use tequila in my particular recipe. This cocktail is just as delicious with vodka substituted in place of the tequila.
If you enjoyed this post, please consider becoming a supporter on Patreon for just $1 a month!