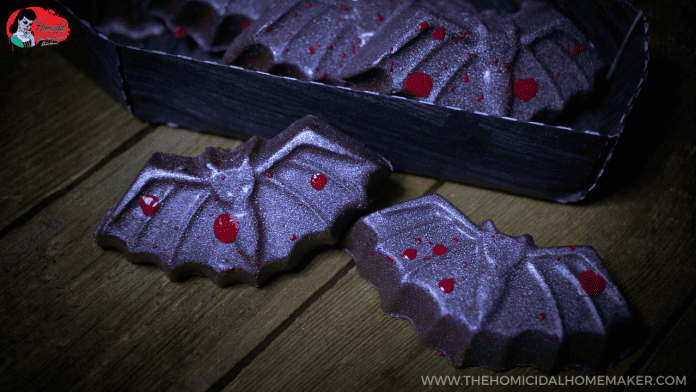 Forego the sickeningly-sweet store-bought chocolates, and sink your fangs into these spicy and decadent truffles inspired by "From Dusk Till Dawn".
A rich and creamy dark chocolate filling is entombed in notes of warm cinnamon and vanilla, with a subtle yet fiery aromatic bite from chili and tequila.
If you really want to steal a vamp's heart, rather than staking it, package these bite-sized bat truffles in a homemade coffin box.
"From Dusk Till Dawn" Spiced Dark Chocolate-Tequila Bat Truffles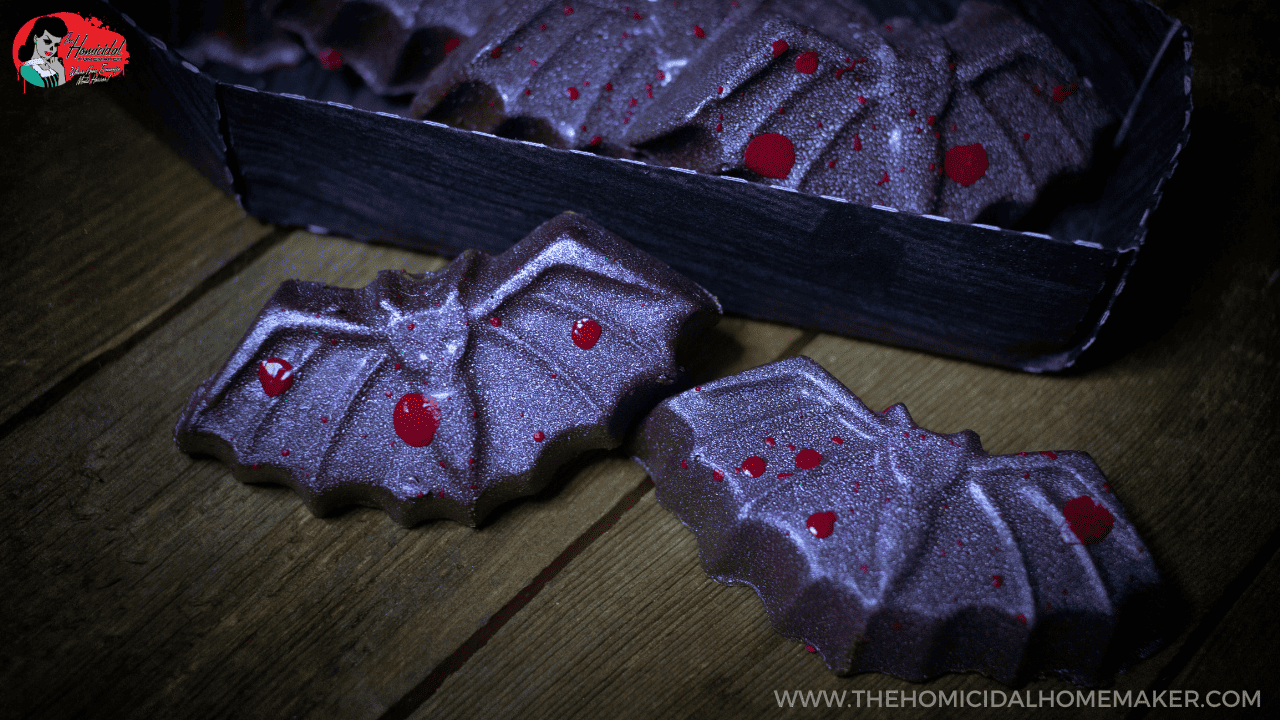 What You Need
Spiced Dark Chocolate-Tequila Filling
12 oz. semi-sweet chocolate, finely chopped
3 Tbsp. salted butter
½ Cup heavy whipping cream
1 Tbsp. light corn syrup
2 tsp. vanilla extract
1 tsp. ground cinnamon
¾ tsp. chili powder
4 Tbsp. tequila (I used Sangre de Vida)
For Decorating
6 oz. dark chocolate, for coating
Bat-shaped candy molds, optional
Edible lustre dust, optional
Red-colored candy melts, optional
What To Do
1
In a microwave-safe bowl, add in the chopped semi-sweet chocolate and butter. Microwave for 30 seconds; stir, and microwave for another 30 seconds. Stir and set aside. The chocolate will not be fully-melted.
Heat the heavy cream and corn syrup in a small saucepan over medium heat. Once it comes to a simmer, pour the mixture over the melted chocolate. Allow to sit for two minutes, and then gently stir until all of the chocolate has melted, and the mixture is smooth. Very gently stir in the vanilla extract, spices, and tequila. Pour the mixture into a shallow glass baking dish and refrigerate for at least one hour.
Temper the dark chocolate, and carefully coat the insides of the candy molds with a thin layer of chocolate. Chill in the freezer for 5 minutes to set, and repeat two more times.
Once the truffle mixture has chilled, scoop and press a small amount into each bat-shaped chocolate shell. Smooth, and cover with additional tempered dark chocolate. Place in the refrigerator until set, about 10 minutes, before removing from molds.* Brush with lustre dust and droplets of melted red candy melts, if desired.
Refrigerate until ready to serve. Allow to sit at room temperature for 30-45 minutes before serving.
*Alternatively, you may roll the chilled truffle filling into balls, and dip into tempered chocolate, or roll in cocoa powder.
Sorry you didn't enjoy this post.
Help me improve!
What didn't you like, or what would you like to see?
If you enjoyed this post, please consider becoming a supporter on Patreon for just $1 a month!
Be sure to check out my other horror themed recipes, horror cocktails, and my YouTube channel for more fun episodes of my horror cooking show, tutorials, cocktails and much more! And if you've created something using one of my recipes, don't forget to tag me on Facebook, Instagram, TikTok, or Twitter, and use the hashtag #HomicidalHomemaker for a chance to be featured!