Originally published for Fangoria Magazine on December 24, 2021 Since Krampusnacht is just around the corner, I thought it was the perfect time to revisit this sweet and chewy, blood-red delight that my friends over at Fangoria Magazine asked me to bake up for the 2021 holiday season. My recipe for this Krampus Red Velvet Sugar Cookie Pie will surely impress your...
Hi! I'm Kaci, more commonly known as The Homicidal Homemaker. I started this website to inspire others to bring a spooky element to every day life through horror recipes, cocktails, crafts, & tutorials. Check out my horror cooking show on Screambox, YouTube, Roku, Amazon Prime, & AT&T Uverse/Comcast in Central CA.
[mailerlite_form form_id=1]
Save 20% with code: HOMICIDALHOMEMAKER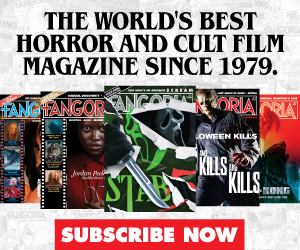 This vegan Jambalaya could fool any seasoned carnivore. This Jambalaya is a party in a pot, and it's generously spiked with Joe Bob's favorite—Lone Star Beer. Serving this with sour cream and a squeeze of lime further elevates the flavors.
It doesn't have to be Fat Tuesday to enjoy Victor Crowley's King Cake, my morbid, intestinal twist on a Mardi Gras tradition, inspired by...
I invite you to give Vincent Price's recipe for Stilton Cheese Slaw a try - a lighter take on traditional coleslaw, utilizing sour cream in the dressing, and adding an extra kick with Stilton blue cheese and bell peppers, making it perfect for your summer barbecues. If the thought of blue cheese makes you scream in terror, fear not — sharp cheddar would make an excellent replacement.
You don't need to repeat his name five times to enjoy these Candyman inspired Severed Hand Honeybuns. Made with a soft homemade yeast dough, these donuts are deep-fried until golden, and then dipped in a sticky, sweet honey glaze. The taste, I can assure you, will be exquisite.