Super gooey macaroni and cheese gets a morbid makeover just in time for Halloween, thanks to Nordic Ware's Brain Cakelet Pan. These single-serve Baked Macaroni and Cheese Brains are the perfect finger food for your next Halloween party or as a delectable side dish for dinner.
Hi! I'm Kaci, more commonly known as The Homicidal Homemaker. I started this website to inspire others to bring a spooky element to every day life through horror recipes, cocktails, crafts, & tutorials. Check out my horror cooking show on Screambox, YouTube, Roku, Amazon Prime, & AT&T Uverse/Comcast in Central CA.
Save 20% with code: HOMICIDALHOMEMAKER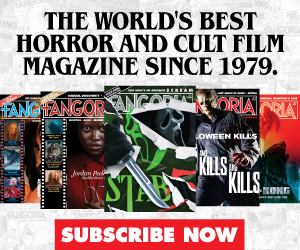 Originally published for Fangoria Magazine on December 24, 2021 Since Krampusnacht is just around the corner, I thought it was the perfect time to revisit...
Every Easter, it seems like we've all got hard boiled eggs on the brain. After dyeing and decorating them, what else is one to...
I was delighted when Joe Bob selected Demon Wind as one of his picks for Season One of The Last Drive-In. I randomly watched this...
Enchant your Valentine with my recipe for a shimmering "The Love Witch" cocktail - it only takes a few ingredients and the no-fuss prep makes it a breeze to put together!