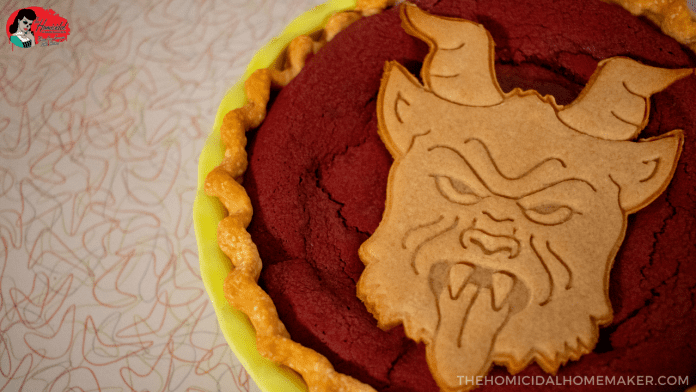 Since Krampusnacht is just around the corner, I thought it was the perfect time to revisit this sweet and chewy, blood-red delight that my friends over at Fangoria Magazine asked me to bake up for the 2021 holiday season.
My recipe for this Krampus Red Velvet Sugar Cookie Pie will surely impress your loved ones with the forked-tongued symbol of holiday cheer…and fear! Happy Horror-days!
Krampus Red Velvet Sugar Cookie Pie Recipe
Makes one 9-inch pie
What You Need
Sugar Cookie Crust
½ Cup salted butter (1 stick), softened
½ Cup granulated sugar
1 egg white, beaten
½ tsp vanilla extract
½ tsp almond extract
1 tsp baking powder
1 ½ Cup all-purpose flour
Red Velvet Filling
1 ¼ Cup all purpose flour
½ Cup salted butter (1 stick), softened
1 ¼ Cup granulated sugar
2 large eggs
3 Tbsp dark cocoa powder
1 tsp LorAnn Red Velvet Emulsion*
1 tsp Vanilla Extract
Optional: ¼ Cup dark chocolate or white chocolate chips
For Decorating
Printed Krampus Face Template
Knife or fondant sculpting tools
What To Do
For the crust
1
In a bowl, cream together the butter and sugar until light and fluffy, about two minutes. Scrape down the sides of the bowl, and mix in the egg white, vanilla and almond extracts. Add in the baking powder and flour, and mix until combined and formed into a dough. The dough should not be sticky or crumbly – you may need to add in a bit more flour, or a tiny bit of water if your dough seems too wet or too dry.
Reserve ⅛ of the dough for the top Krampus decoration, if preparing. Gather the remaining dough into a ball between two sheets of parchment paper, and roll into an 11-inch circle. Peel off the top layer of parchment, and invert the dough onto a 9-inch pie plate. Remove the parchment paper, trim the overhanging crust to 1-inch, fold under, and flute the edges. Dock the bottom of the pie crust with a fork. Chill in the refrigerator until ready to use.
For the filling
2
Preheat your oven to 350°F. In a medium bowl, cream together the butter and sugar until light and fluffy, about two minutes. Scrape down the sides of the bowl, and mix in the eggs, one at a time. Add in the Red Velvet Emulsion and vanilla extract. Mix in the flour and cocoa powder until completely blended, then use a spatula to fold in the chocolate chips, if using.
Remove the sugar cookie crust from the refrigerator, and use a spatula to gently spread the filling inside.
Bake for 45 minutes, using foil or a pie shield during the first 30 minutes of baking to prevent the crust edges from over browning.
Allow to fully cool before serving.
For decorating
3
Roll out the remaining dough to ¼" thick between two pieces of parchment paper. Print out the Krampus face template, and trace onto parchment paper. Using a knife, fondant sculpting tools, or even a toothpick, use the pattern on the parchment paper to trace the Krampus face onto the dough. Use a sharp knife to cut out the edges and peel away the excess dough. Or, totally shortcut this step by using your favorite cookie cutter or stamp! Bake the cutouts on a parchment-lined cookie sheet at 350°F for 12 minutes. Allow to fully cool before placing on top of the cookie cake.
*LorAnn Red Velvet Emulsion can be found in the baking section of most craft stores. Additional vanilla extract with red gel food coloring may be used as a substitute.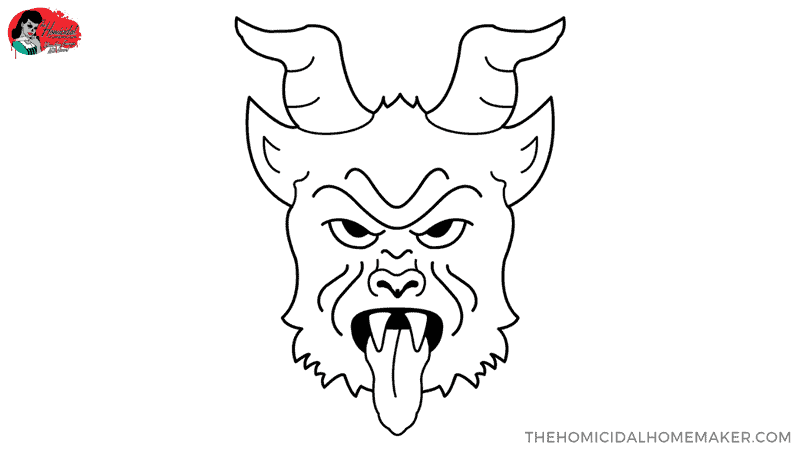 Sorry you didn't enjoy this post.
Help me improve!
What didn't you like, or what would you like to see?
If you enjoyed this post, please consider becoming a supporter on Patreon for just $1 a month!
Be sure to check out my other horror themed recipes, horror cocktails, and my YouTube channel for more fun episodes of my horror cooking show, tutorials, cocktails and much more! And if you've created something using one of my recipes, don't forget to tag me on Facebook, Instagram, TikTok, or Twitter, and use the hashtag #HomicidalHomemaker for a chance to be featured!