I was delighted when Joe Bob selected Demon Wind as one of his picks for Season One of The Last Drive-In.
I randomly watched this film a few years prior, and was really surprised by it, as I did not have high hopes for it. However, Joe Bob had other…thoughts about the film:
"Demon Wind is the only haunted house, time-travel, vomit-spewing demon zombie apocalypse, multi-generational satan worship martial arts film. It was one of those genres that just didn't catch on. Instead, we get the old familiar story of the portal to hell that exists inside an old burned-out house that's been sittin' on the prairie for 60 years, waitin' for the grandson of a cult-worshippin' pioneer woman who gets exploded by her goop-vomiting husband to return with his nine closest friends for a weekend of funsies at the old farm which the creepy gas station owner says not to visit because it's owned by the dead people." – Joe Bob Briggs
Now, I could have gone with the obvious and went with a Hot Link Sandwich and Goat's Milk that was advertised at the cafe in the film, but I decided to go with something a bit more in my wheelhouse and went with a good, old-fashioned cupcake. Inspired by the half-buried skull that is discovered in the film, the marshmallowy-white goo running out of the demons' mouths (yum, yum!), and the butternut squash spotted in the old house, I concocted these lightly-spiced butternut squash cupcakes inspired by the film. Baked up a batch to enjoy while watching this episode (Season One, Week Five of The Last Drive-In).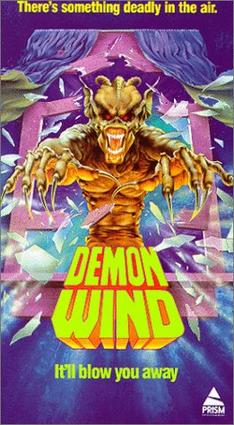 "Demon Wind" Butternut Squash Cupcakes with Marshmallow Frosting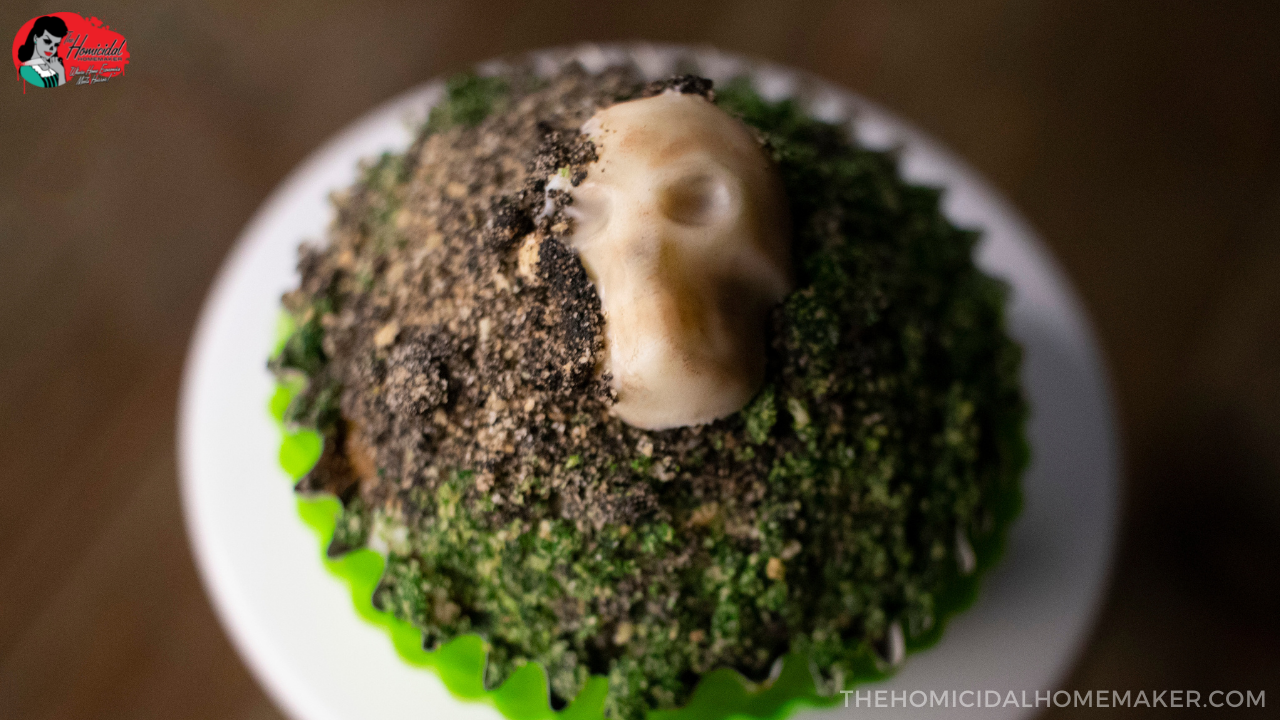 Lightly spiced butternut squash cupcakes topped with a sweet marshmallow frosting, graham cracker 'moss and dirt' and a white chocolate skull. Previously featured in The Joe Bob Briggs Fanzine (2020).
Prep Time

10 min

Cook Time

22 min

Perform Time

15 min

Total Time

47 min
What You Need
Butternut Squash Cupcakes
1 C. butternut squash, cooked, mashed and cooled
1/8 C. vegetable oil
1/2 C. dark brown sugar
1/2 Cup granulated sugar
1/4 Cup buttermilk
1 Tablespoon vanilla extract
1-1/4 Cup all-purpose flour
1/2 teaspoon baking soda
1/2 teaspoon baking powder
1 teaspoon ground cinnamon
1/3 teaspoon ground ginger
1/3 teaspoon ground nutmeg
1/8 teaspoon salt
Marshmallow Frosting
1 Cup salted butter, softened to room temperature
1 7-oz jar marshmallow creme
1 3/4 Cup powdered sugar
1 Tablespoon vanilla extract
Graham Cracker Dirt & Moss
Graham crackers, finely crushed
Green & brown gel food coloring
White Chocolate Skulls
White chocolate
Skull-shaped candy molds
What To Do
For the cupcakes
1
Preheat your oven to 350F. Line a cupcake pan with 12 foil or paper cupcake liners. In a medium bowl, beat together the butternut squash, oil, sugars, buttermilk, and vanilla. In a separate bowl, sift together the flour, baking soda, baking powder, salt, and spices. Add the flour mixture into the wet ingredients in two parts, gently mixing on low just until combined – be sure not to overmix! Pour 1/4 cup of batter into each cupcake liner (approximately 2/3 full). Bake for 20-22 minutes; insert a toothpick into the center of a cupcake – if it comes out clean, they're done! Remove from oven, and allow to cool in the pan for five minutes. Transfer the cupcakes to a baking rack, and cool completely before frosting.
For the frosting
2
In a medium bowl, cream the butter until it is light and fluffy, approximately two minutes. Add in the marshmallow creme and vanilla extract, and continue to beat until incorporated. Gradually add in the powdered sugar until the mixture is thick and fluffy. Add frosting to a large pastry bag.
For the topping
3
Temper the white chocolate, and pour into molds. Place in the refrigerator to harden. Place 2/3 of the graham cracker crumbs into a sandwich bag with a small amount of brown gel food coloring. Gently knead and rub the bag to incorporate the color into the crumbs. Repeat with the remaining 1/3 of the crumbs and green gel food coloring.
To assemble
4
Use a small paring knife or cookie cutter to remove the center of each cupcake. Using a pastry bag, pipe a generous amount of frosting inside each cupcake. Replace the centers of the cupcake (you may need to trim them down to get them to fit). Add a small amount of the frosting to the top of each cupcake, using a spatula to smooth out. Roll the tops of the cupcakes into the brown graham cracker crumbs, and sprinkle the green crumbs around the edges, to resemble dirt and grass. Un-mold each white chocolate skull, and place on top of the cupcake, adding additional frosting and crumbs to the top and side of the skull.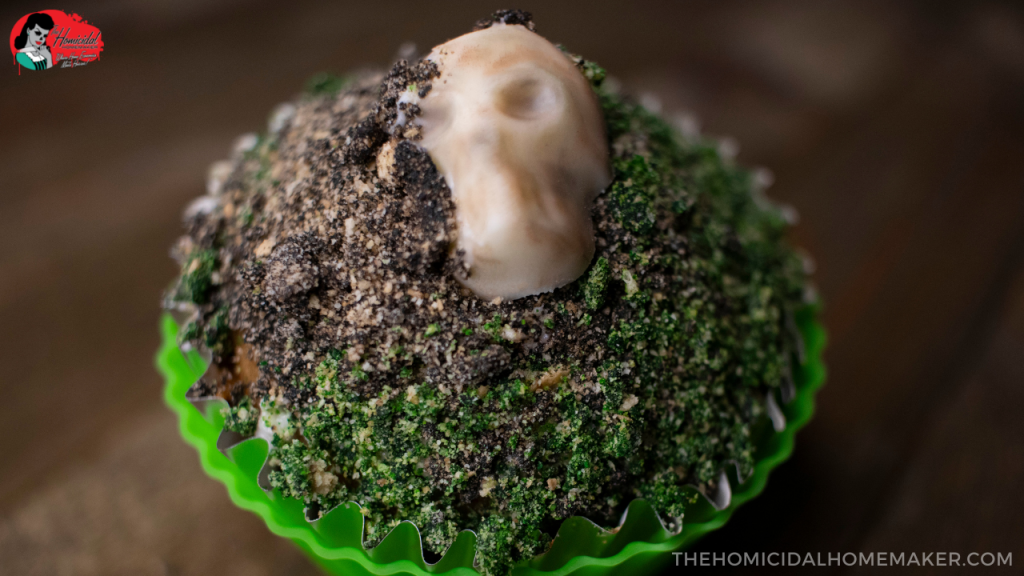 If you enjoyed this post, please consider becoming a supporter on Patreon for just $1 a month!