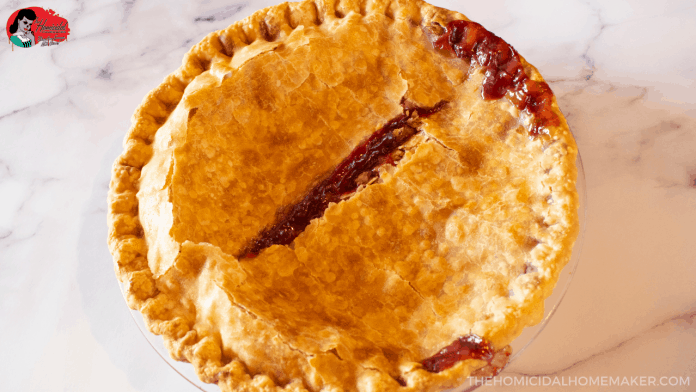 Start the New Year off by baking up a "Thinner" Cursed Strawberry Pie!
This recipe uses less sugar than a typical strawberry pie, and uses blood orange flesh, juice, and zest for an unexpected surprise in every bite. Unlike the pie in the novel and film, you'll definitely want to share this pie with someone you love–not someone you want to kill.
When I think back to the mid-90's, a film that I was quite fond of was Thinner, the film adaptation of the Richard Bachman novel, later revealed to be Stephen King. The film was directed by Tom Holland, who you likely recognize from films such as Child's Play or Fright Night.
I recently revisited this film with my family, and introduced my younger brother to it for the first time, and had so much fun rewatching it, I knew I had to take a stab at making the cursed pie from the film, and with it being the new year, and a time when many make resolutions to eat a bit healthier, I decided to embracer the Thinner theme, and make this a reduced sugar pie. And the idea of my Thinner Cursed Strawberry Pie with Blood Orange was born. Feel free to substitute the sugar substitute with a full-serving of granulated sugar if your heart and pancreas desires.
The pie in the film is a strawberry pie, topped off with a secret ingredient—Billy's cursed blood. To fully embrace the theme of the film, I decided to add some blood oranges to my strawberry pie. The blood orange juice, rind, and flesh add extra flavor and essence to an already flavorful pie. They just add an unexpected, yet pleasant surprise to every bite, and the addition of the extra acidity ensures you don't miss the omitted sugar. This pie will definitely be a welcome addition to my springtime baking rotation, even if I have to substitute a different variety of citrus if blood oranges are no longer in season. I do love the bold, slightly-bitter quality of blood oranges, but any citrus variety will do if you cannot find them in your area. Tarocco, Sanguinello, and Cara Cara varieties are close, but Navel and Valencia can be substituted as well. As I've said before: cooking and baking is a springboard for using what you have available.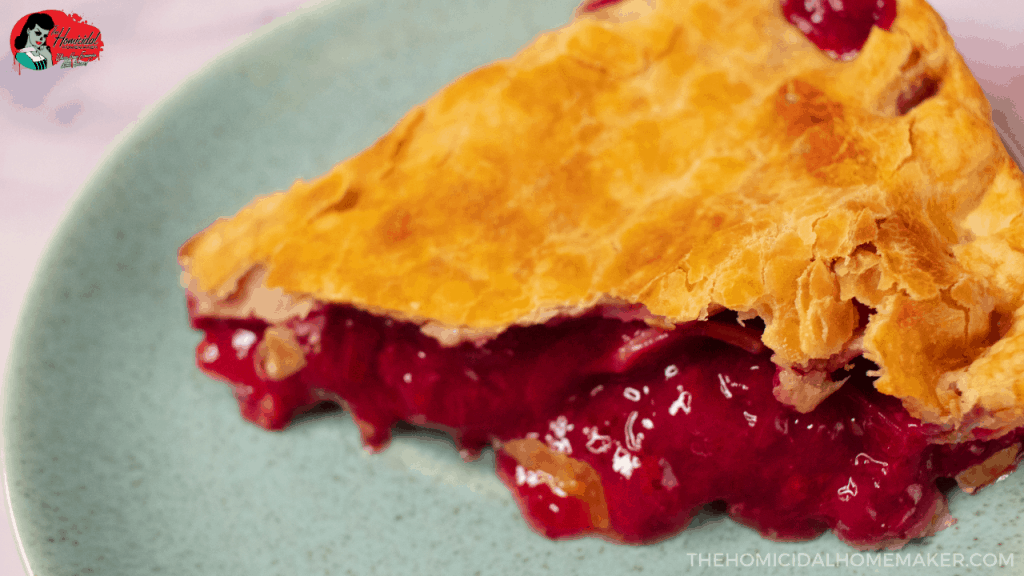 ABOUT THE BOOK/FILM – Spoiler Alert
Billy Halleck is an overweight, upper class lawyer living in the fictional suburb of Fairview, Maine. After having dinner with a mobster named Richie 'The Hammer" Ginelli that Billy successfully defends, Billy finds himself…rather distracted…by his wife's advances while driving home, and ends up accidentally running over an elderly gypsy woman from a traveling carnival. Long story short, Billy is able to work his magic and use his connections with his friends—a judge, and a police chief—to avoid any charges, and force the gypsy carnival out of town.
After Billy is declared not-guilty, a 106 year-old man named Tadzu Lempke approaches Billy, brushes his cheek, and utters the word, "Thinner." While Billy is shaken by this encounter, he doesn't think much of it.
The following week, Billy has dropped 25 pounds. He is amazed, but his wife Heidi attributes it to guilt. As time goes on, Billy continues to drop more weight and rapidly withers away. Has Billy found a newfound cure for his obesity, or has a gypsy curse been put on him?
I highly recommend you read the book and/or watch the film, but needless to say, in order for Billy to lift the curse, he must "give" the curse to a pie, which he then must give to a recipient, who then must consume the pie. Which, in this case, is his wife's favorite—strawberry.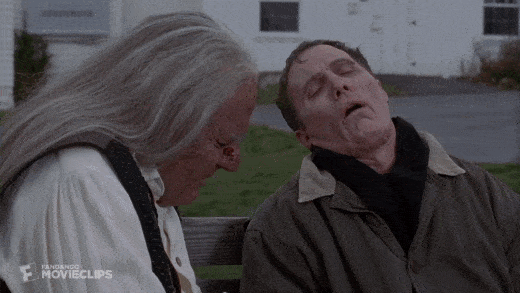 I hope you all enjoy this pie as much as my family and I did! Just like Billy's daughter did, I enjoyed a slice for breakfast before starting my day.
This is absolutely a pie you want to share with those you love, rather than your worst enemies. Unless, of course, you can actually find someone to put a curse upon the pie. Then, by all means, do with it what you will, but I take no responsibility for what chaos unsues.
Happy 2021!
"Thinner" Cursed Strawberry Pie with Blood Orange (Low Sugar Recipe)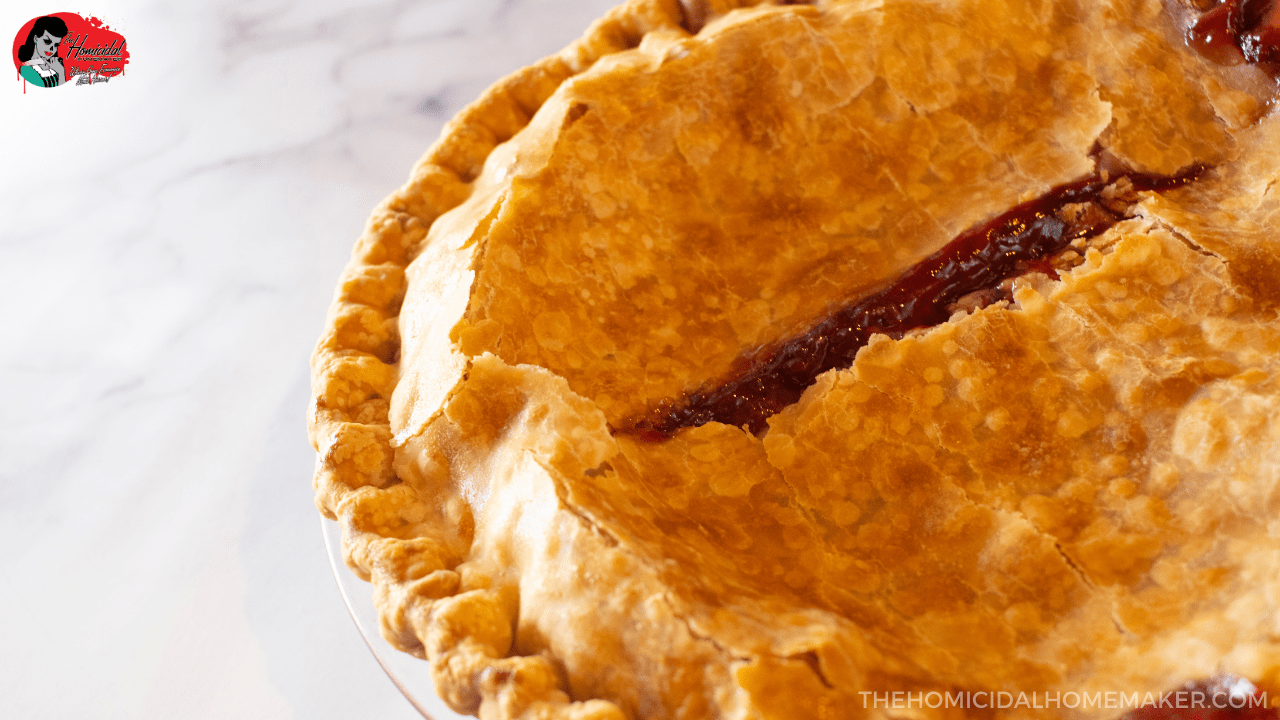 What You Need
For the Pie
1 pastry for a 9-inch double crust pie (homemade, or store-bought)
3/4 Cup granulated sugar
3/4 Cup Splenda
¼ teaspoon salt
¼ cup quick-cooking tapioca
¼ teaspoon freshly-ground nutmeg
4 cups fresh strawberries, sliced
1 medium blood orange, chopped
Juice and zest of one medium blood orange (yielding 1/4 cup juice, 1 tsp of zest)
For Topping the Pie
1 tablespoon milk, cream, or half-&-half
1 tablespoon white sugar
What To Do
1
Preheat your oven to 400 degrees F. Divide your pastry dough in half. Using parchment paper, roll out half of your dough to approximately 11-inch round, and cover the bottom and sides of a 9-inch pie plate. Roll out the remaining half onto parchment paper, and refrigerate both pastries until ready to use.
In a saucepan, stir together the sugar, Splenda, salt, chopped strawberries and blood orange, orange juice and zest, tapioca, and nutmeg together. Allow to sit for 10 minutes, then cook over medium heat for 5-7 minutes, just until slightly thickened. Remove from heat and allow to cool slightly, about 20 minutes.
Once the filling has cooled, remove the chilled pie pastries out of the refrigerator. Pour the filling into the prepared pie crust. Top with the additional rolled pie crust, and fold the edges of both the top and bottom crusts together to seal them together. Using your index finger and thumb on one hand, and your index finger on the other hand, pinch the crush to form a fluted edge around the crust.
Brush the milk/cream/half-&-half over the top of the pie crust, and sprinkle with sugar. Using a very sharp knife, cut a slash right down the center of the pie.
Bake in the preheated oven until the filling the crust has browned, approximately 40 to 45 minutes. Be sure to check your pie at 30 minutes—if it is browning too quickly, cover it with some aluminum foil or a pie shield.
Once baked, remove from oven and allow to fully-cool before enjoying and serving.
Serve to your worst enemy someone you love, and enjoy! Happy new year!
If blood oranges cannot be found, simply use another variety of orange. Blood oranges possess a more bitter taste than most oranges, but any citrus variety will still be delicious.
If you enjoyed this recipe for my Cursed Strawberry Pie from Thinner, please be sure to leave me a comment below! Sharing is scaring…er…caring, so I'd appreciate it if you'd share it with your friends on social media! Be sure to tag me on Facebook, Instagram, or Twitter if you do!
Please consider supporting future horror-themed recipes like this one by becoming a supporter on Patreon for as little as $1/month.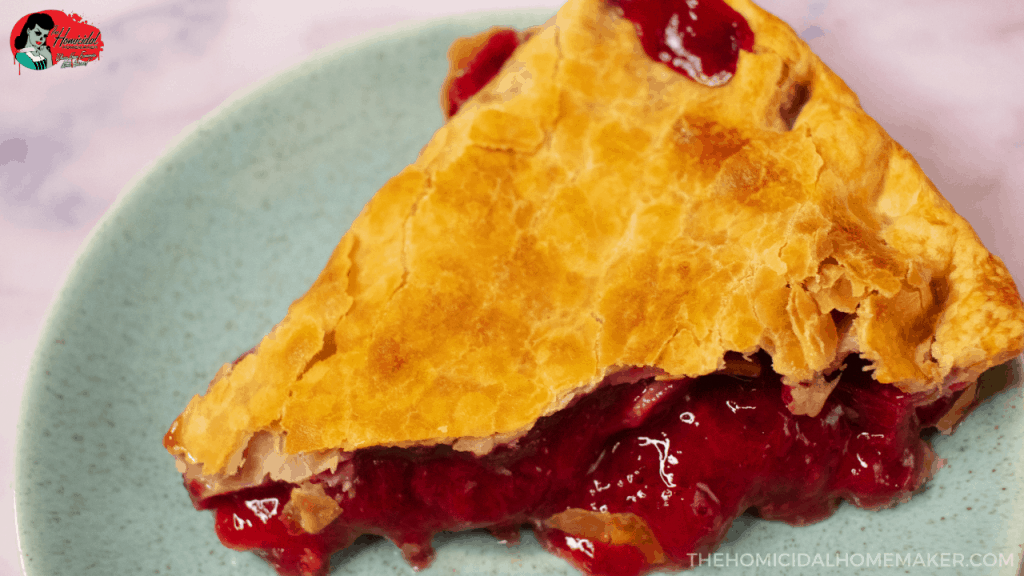 If you enjoyed this post, please consider becoming a supporter on Patreon for just $1 a month!