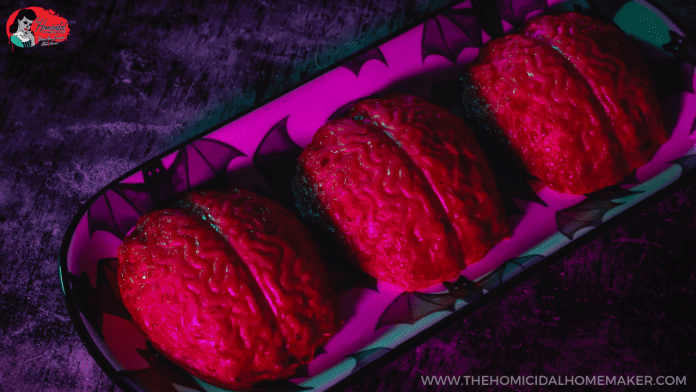 Originally published August 2021. Updated October 2023.
Super gooey macaroni and cheese gets a morbid makeover just in time for Halloween, thanks to Nordic Ware's Brain Cakelet Pan.
These single-serve Baked Macaroni and Cheese Brains are the perfect finger food for your next Halloween party or as a delectable side dish for dinner.
Sinking your fangs into a portable, baked macaroni and cheese brain is an experience of its own. Loaded with cheese and pasta, but far more fun and gruesome than your standard macaroni cheese, and I mean that in the best possible way.
These Baked Macaroni & Cheese Brains make an awesome finger food for a party, or a tasty side for a Halloween dinner. They are super easy to make ahead of time and reheat for later. While best served hot, they still taste great while served at room temperature.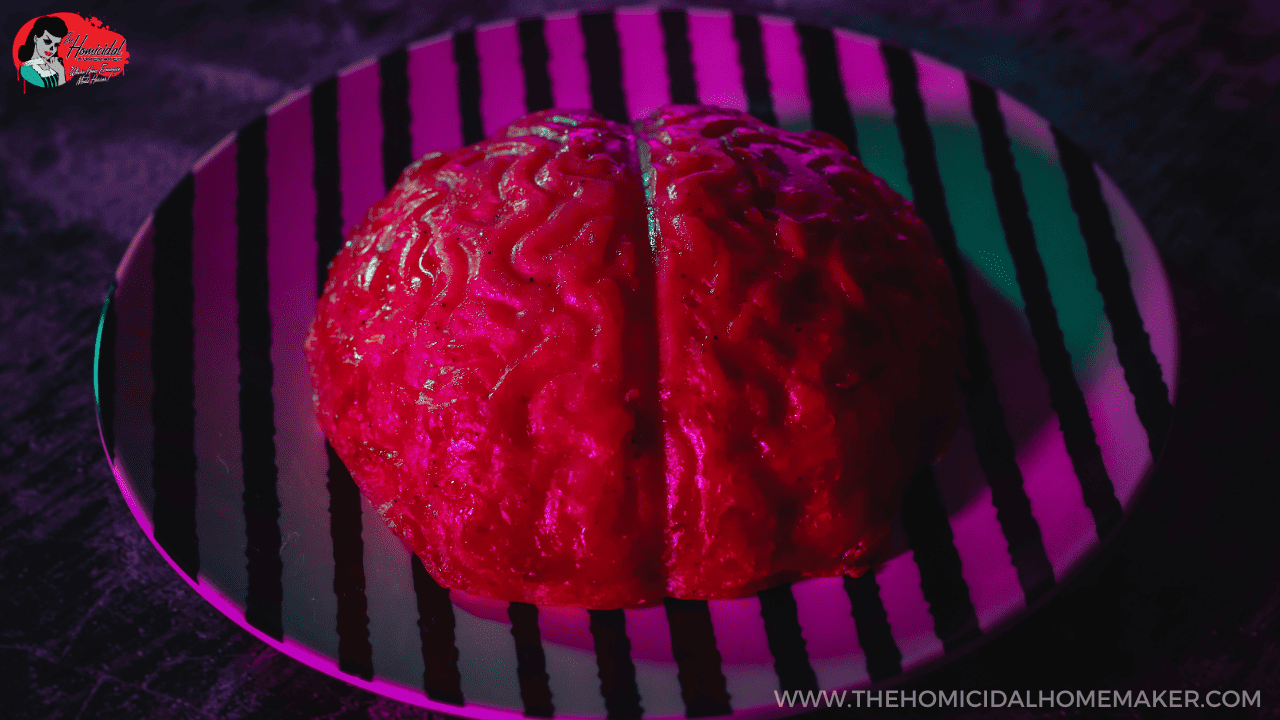 Additions and Alterations
It's hard to go wrong with macaroni and cheese. There are countless ways you can adjust this Baked Macaroni & Cheese Brains recipe to suit your palate, or to accommodate what cheese you have on hand. 
I used a combination of sharp cheddar and mozzarella – the sharp cheddar gave it a traditional flavor, while the mozzarella gave it a great "cheese pull"!
But switching up the types of cheese can make things fun – other options include Gruyere, Swiss, Gouda, pepper jack, Parmesan, or Monterey Jack.
You could also spice things up by stirring in some chopped jalapeno, bacon, or ham.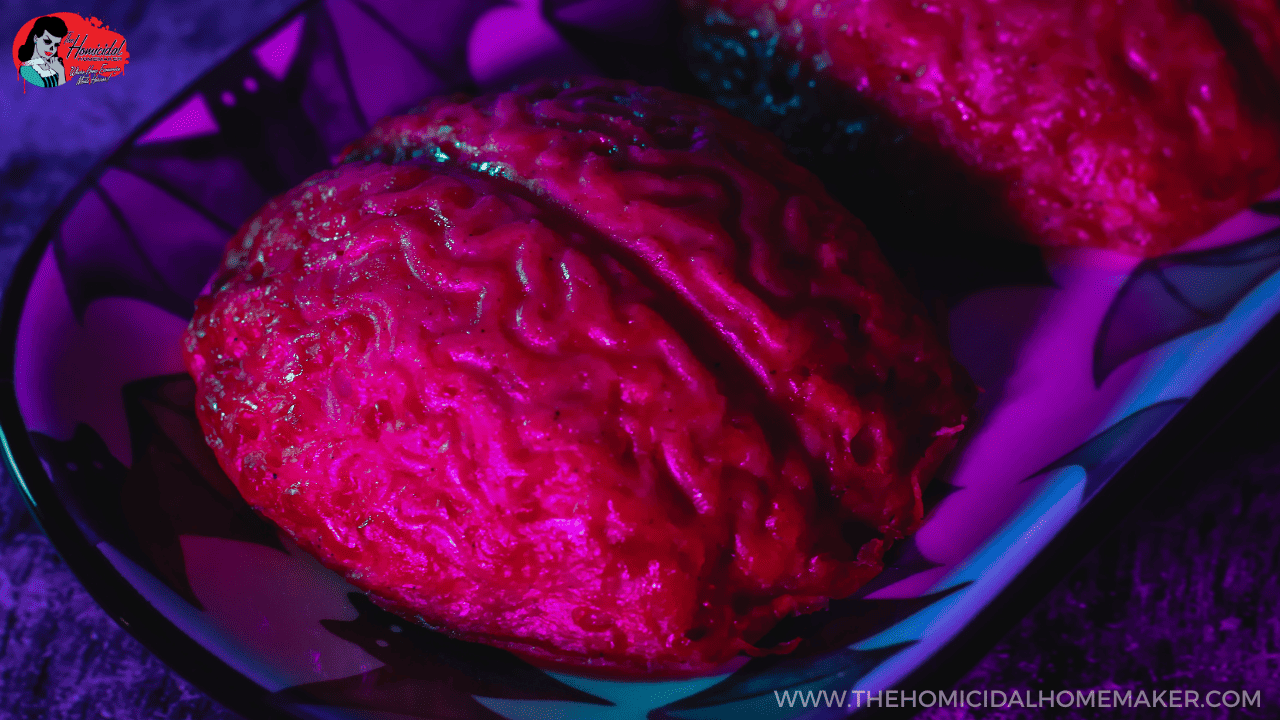 Eggs in macaroni and cheese?! Why?!
The beaten egg in the cheese sauce mixture helps bind the mac & cheese, and holds it together in the brain shape! It helps the Baked Macaroni & Cheese Brains from falling apart once you unmold them, but the fat from the butter, cheese, and heavy cream ensures that the mixture isn't gritty or too "eggy".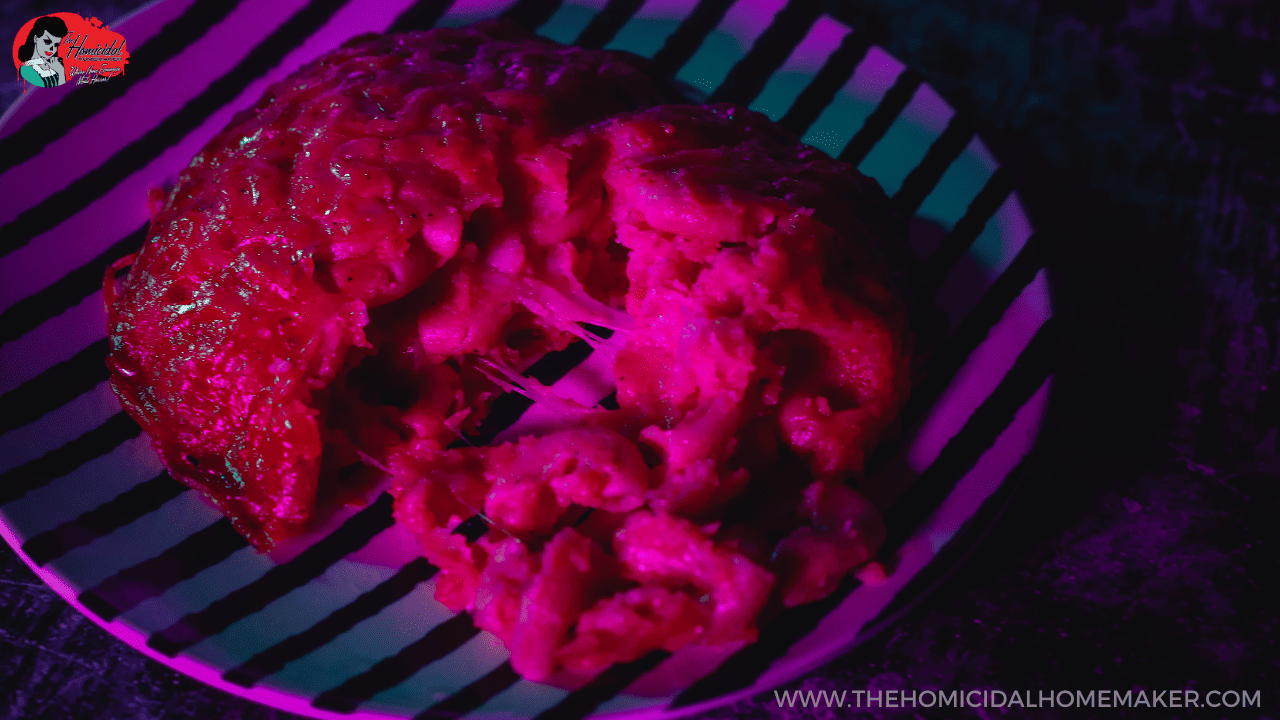 Baked Macaroni & Cheese Brains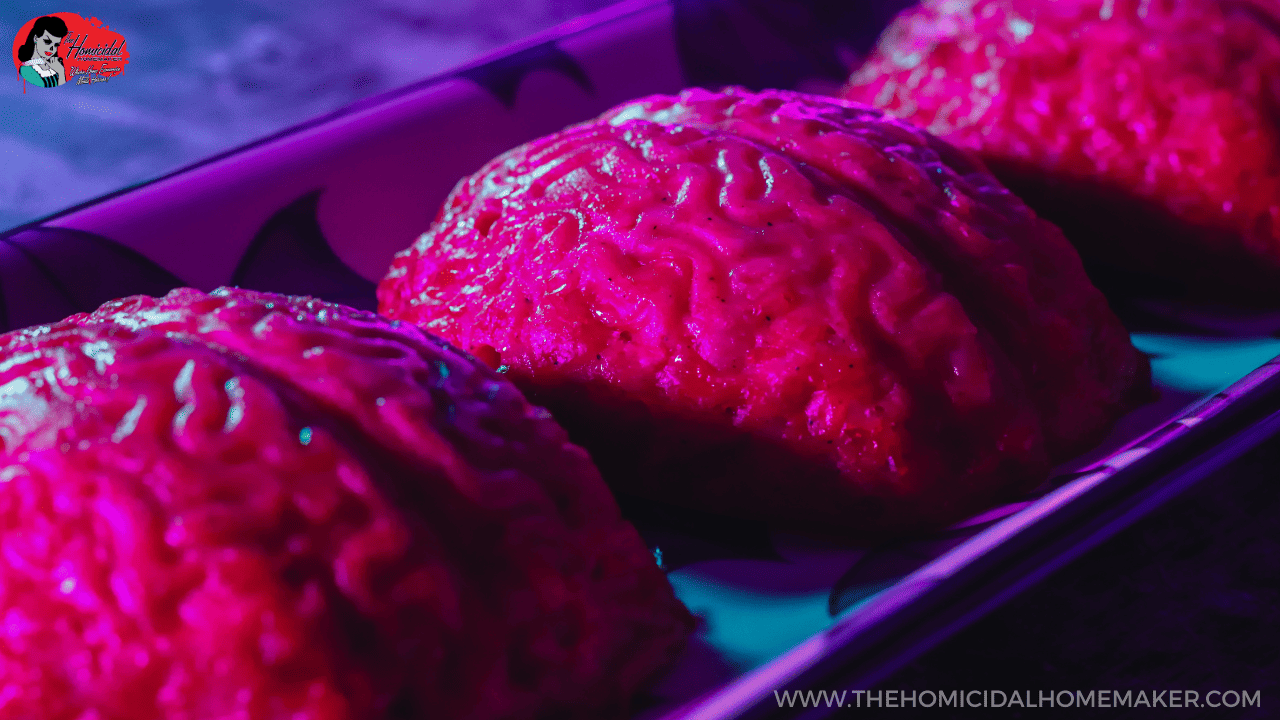 What You Need
Ingredients
1 Cup (150 g) uncooked elbow macaroni
1/2 T (14.3 g) salted butter
1 large egg, beaten
1 .5 Cup (125 g) grated cheese (I used a mixture of mozzarella and sharp cheddar)
3/4 Cup (240g) heavy cream
1/2 to 3/4 tsp salt (to taste)
1/4 tsp ground black pepper
1/4 tsp garlic powder
1/4 tsp onion powder
1/4 tsp smoked paprika
Pink gel food coloring
Other Supplies
Nordic Ware's Brain Cakelet Pan
Cooking spray
Pot, for cooking pasta
Water
Colander, for draining pasta
What To Do
1
Preheat your oven to 350° F. Using non-stick cooking spray, coat the inside of your Nordic Ware Brain Cakelet Pan. Set aside.

Boil the macaroni in salted water mixed with pink food coloring just until al dente – do not overcook, as the macaroni will continue to bake in the oven.

While the macaroni is cooking, make your cheese sauce by combining the beaten egg, heavy cream, salt, pepper, onion and garlic powders, and paprika. Add in a few drops of pink gel food coloring. Then fold in the shredded cheese until combined.
Once the macaroni has cooked, drain well, but do not rinse.

Using the same pot, add the butter into the hot macaroni, and toss to melt the butter and coat the macaroni.

Add in your cheese sauce mixture, and stir to combine.

Scoop the mixture evenly into your prepared Nordic Ware Brain Cakelet pan, pressing down with a spatula.

Bake 30 minutes or just until set. If the edges seem to be browning too quickly, cover with a piece of aluminum foil for the last 10-15 minutes of baking.

Remove from oven, and allow to cool for at least 10 minutes before removing your baked macaroni & cheese brains from the pan.
Be sure to tag #HomicidalHomemaker on Instagram so I can see what you create and share your creations!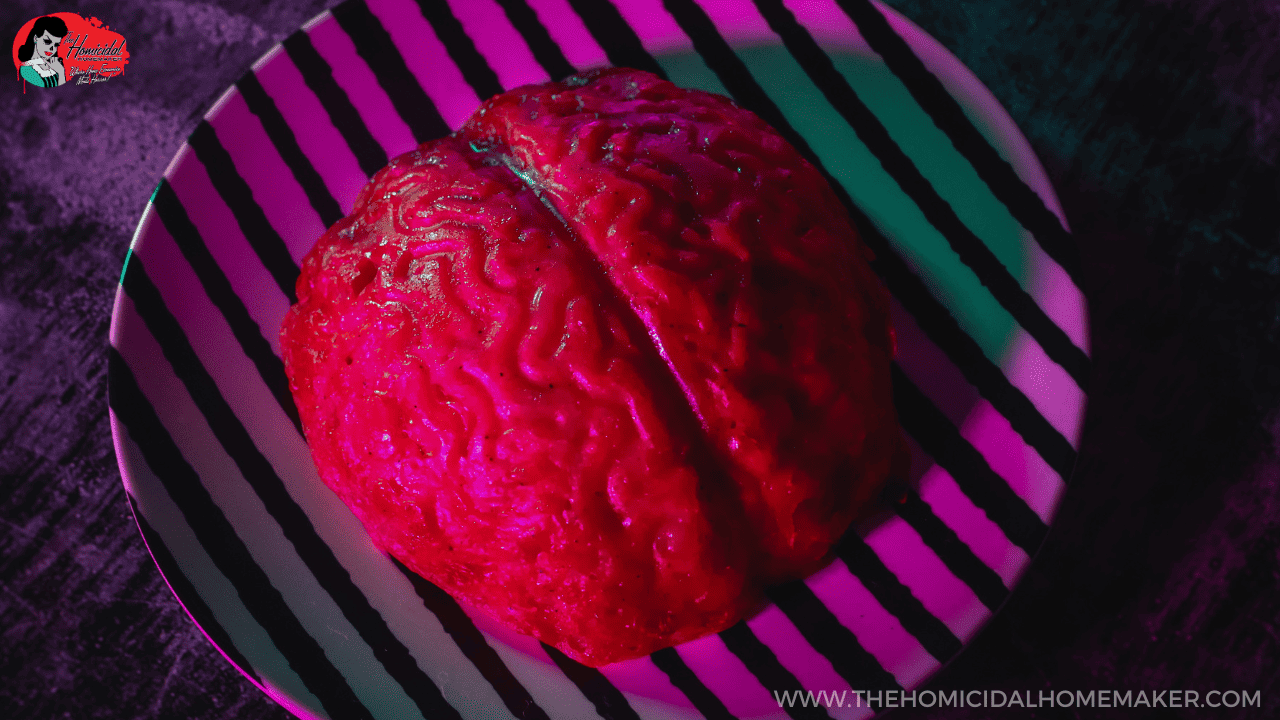 Sorry you didn't enjoy this post.
Help me improve!
What didn't you like, or what would you like to see?
If you enjoyed this post, please consider becoming a supporter on Patreon for just $1 a month!
Be sure to check out my other horror themed recipes, horror cocktails, and my YouTube channel for more fun episodes of my horror cooking show, tutorials, cocktails and much more! And if you've created something using one of my recipes, don't forget to tag me on Facebook, Instagram, TikTok, or Twitter, and use the hashtag #HomicidalHomemaker for a chance to be featured!