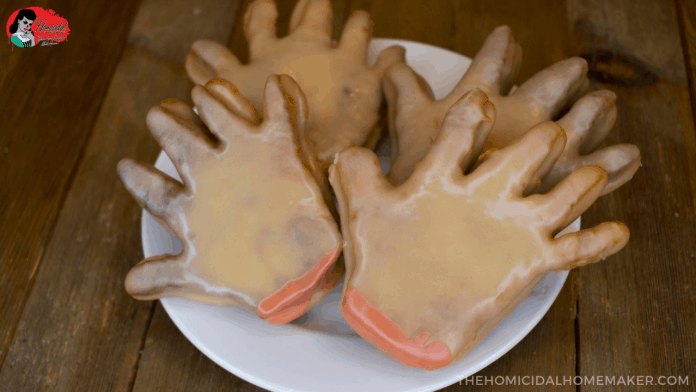 You don't need to repeat his name five times to enjoy these
Candyman inspired Severed Hand Honeybuns
Made with a soft homemade yeast dough, these donuts are deep-fried until golden, and then dipped in a sticky, sweet honey glaze. The taste, I can assure you, will be exquisite. Once you learn how easy it is to make donuts from scratch, your tastebuds will be screaming, "COME BACK TO ME!" for another taste of these honeybuns.
Based on an original story by Clive Barker, Candyman is a hauntingly beautiful film that reinvents the story of the boogeyman, and is still as terrifying and relevant as when it was first released. In this story, Candyman is reimagined as a hook-handed vicious figure who appears, should you whisper his name five times while staring into a mirror.
Candyman Severed Hand Honeybuns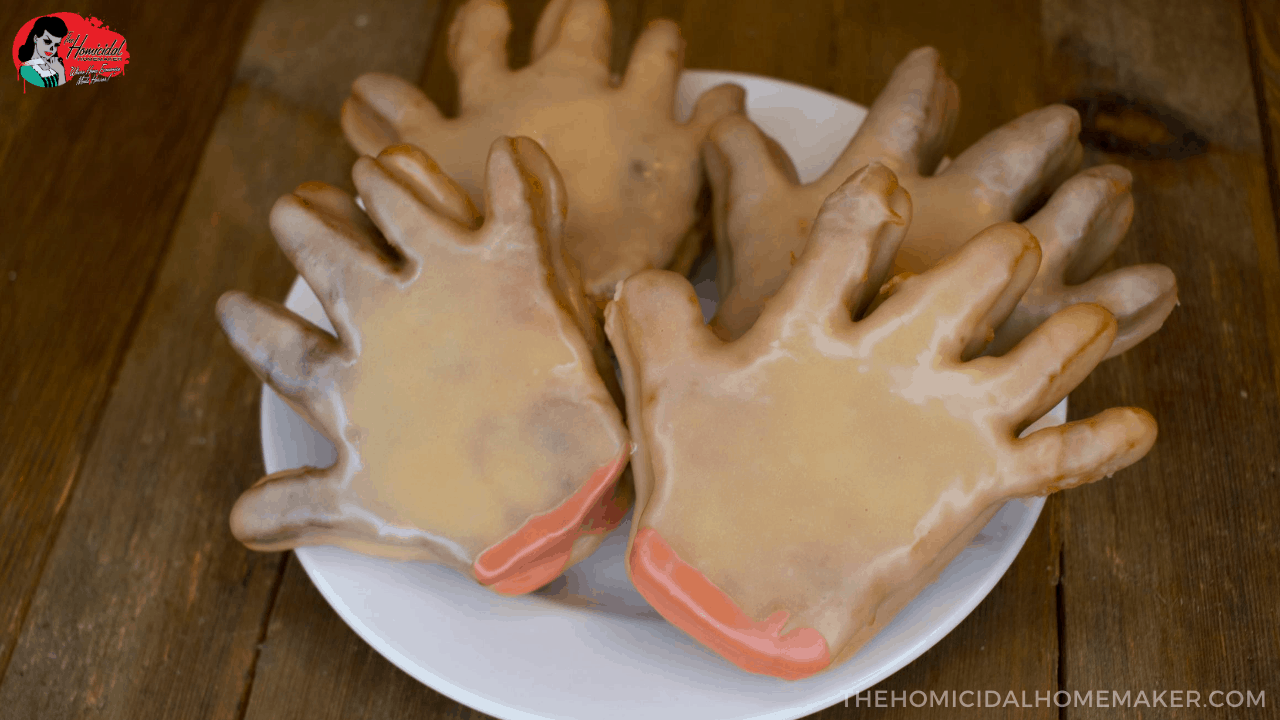 What You Need
Donuts
1 ½ Cup milk, warmed to 110°F
2 ¼ teaspoon dry active yeast
3 Tablespoon granulated sugar
1 large egg
4 cups all-purpose flour
1 teaspoon kosher salt
6 Tablespoon salted butter, softened to room temperature
Peanut oil, for frying
Hand-shaped cookie cutter, 3"-4" tall
Honey Glaze
2 Cup powdered sugar
2 teaspoon vanilla extract
2 Tablespoon milk
2 Tablespoon honey
Red food coloring, optional
What To Do
1
Using a mixer, combine the milk, yeast, and one tablespoon of sugar. Allow to sit for about 5 minutes, until bubbly. Mix in the rest of the sugar and egg.
In a separate bowl, combine flour and salt. Add 1/3 of the flour mixture into the bowl of the stand mixer. Knead using a hook attachment on low speed for about 30 seconds.
Add in the rest of the flour mixture and mix for another 30 seconds. Scrape down the edges of the bowl. Turn the mixer to low speed, and add the butter, one tablespoon at a time. Increase the mixer to medium speed and mix for 3-5 minutes.
Transfer the dough to a greased bowl. Cover with plastic wrap and allow to rise for 30-45 minutes.
Once risen, give the dough a good sucker punch right in the middle, re-cover, and chill in the refrigerator for 30 minutes.
After the dough has chilled, heat the peanut oil to 365°F in a dutch oven.
Remove the dough from the refrigerator, and give it another punch before transferring it to a floured work surface.
Roll the dough to 1/4-inch thick, and cut out shapes with a cookie cutter. Place cut-outs on a parchment-lined baking sheet.
Cook each cut-out for 90 seconds on each side, until golden. Remove from oil, and allow to cool.
In a small bowl, mix together the ingredients for the glaze. Coat each cooled donut with a generous amount of glaze (much like Candyman's body was coated in honey). Allow excess glaze to drip back into the bowl before transferring to a parchment-lined cookie sheet. Allow the glaze to set before serving, around 30 minutes.
Yields 18-24 donuts
If you enjoyed this post, please consider becoming a supporter on Patreon for just $1 a month!