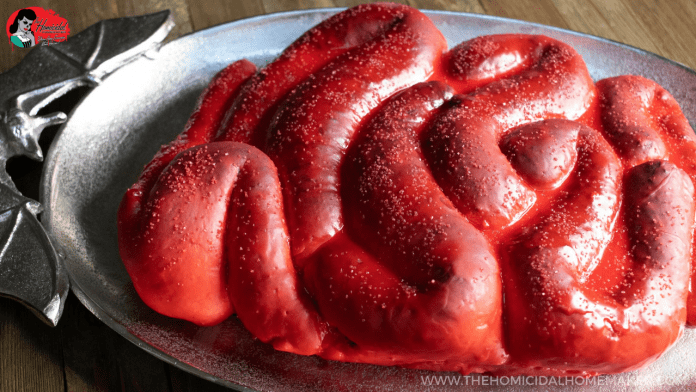 It doesn't have to be Fat Tuesday to enjoy Victor Crowley's King Cake, my morbid, intestinal twist on a Mardi Gras tradition, inspired by Hatchet!
When there's a party, there's usually cake. And when there's horror…there's usually gore. And when the biggest part of the year takes place in the French Quarter, it's only appropriate to partake in enjoying a King Cake, generously topped in sweet glaze, and jewel-toned colored sugars.
Now, it's certainly not Mardi Gras season, and I'm well-aware of that. But with Joe Bob Briggs' The Last Drive-In Summer Sleepover special streaming tomorrow on Shudder, I wanted to cook and bake up something special to enjoy during the stream.
In May, I was shocked and completely ecstatic to be the first female recipient of a Silver Bolo Award from Joe Bob and Darcy. The Silver Bolo Award highlights excellence in horror media, hand-picked by the hosts themselves. As a long-time fan of Joe Bob Briggs, I have always been a fan of The Last Drive-In, and always cook something up for each marathon. Receiving a Silver Bolo Award is absolutely the greatest honor, and I wanted to use tomorrow's Summer Sleepover as a celebration with my friends and family.
Since Hatchet's Adam Green is one of the guests for the evening, I felt that it would be fun to embrace a Cajun, Mardi Gras inspired meal to celebrate. I cooked up a vegan friendly Lone Star Beer Jambalaya (recipe will be shared later tonight – please check back!), and this Intestine King Cake inspired by one of Victor Crowley's disemboweling kills in Hatchet 2.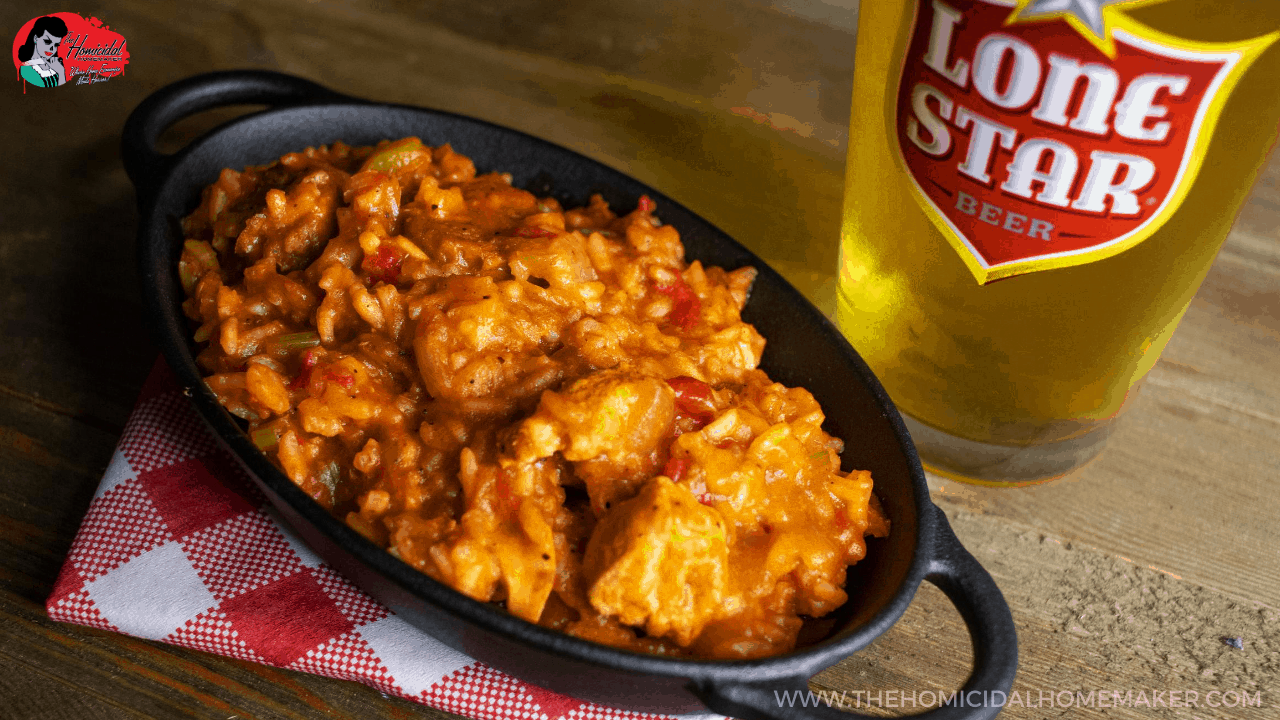 This is hands-down the absolute best King Cake or Rosca de Reyes that I have ever had. I started off with my favorite recipe for Challah, stuffed it with a tangy, sweet, citrusy, and slightly-spicy filling, and then baked it up before topping it with a shiny, blood-red citrus glaze and—in true King Cake fashion—colored sugar.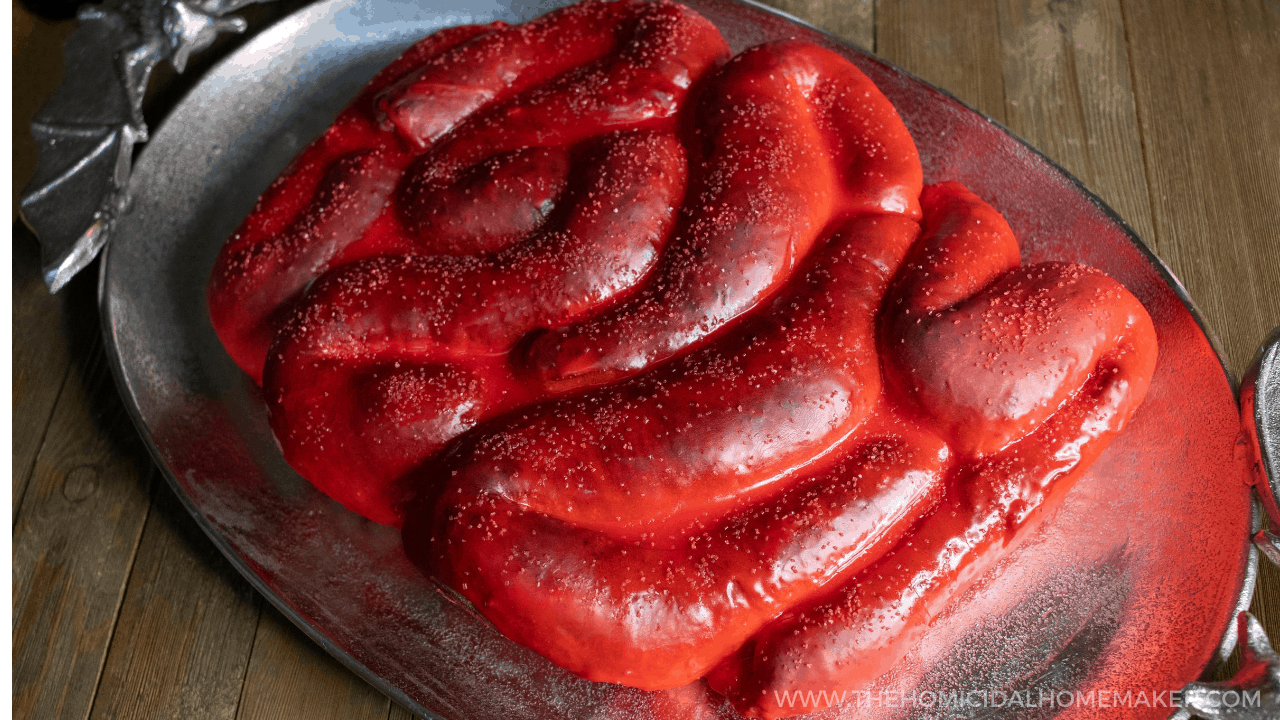 The end result is a soft and chewy cake, that's not too sweet or dense, with a creamy ribbon of filling. This cake is best enjoyed the same day it's prepared, but will keep for several days (if it even lasts that long!). I like to zap any leftovers in the microwave for a few seconds so it is slightly-warm and gooey while enjoyed.
Victor Crowley's King Cake – An Intestinal Twist on a Mardi Gras Tradition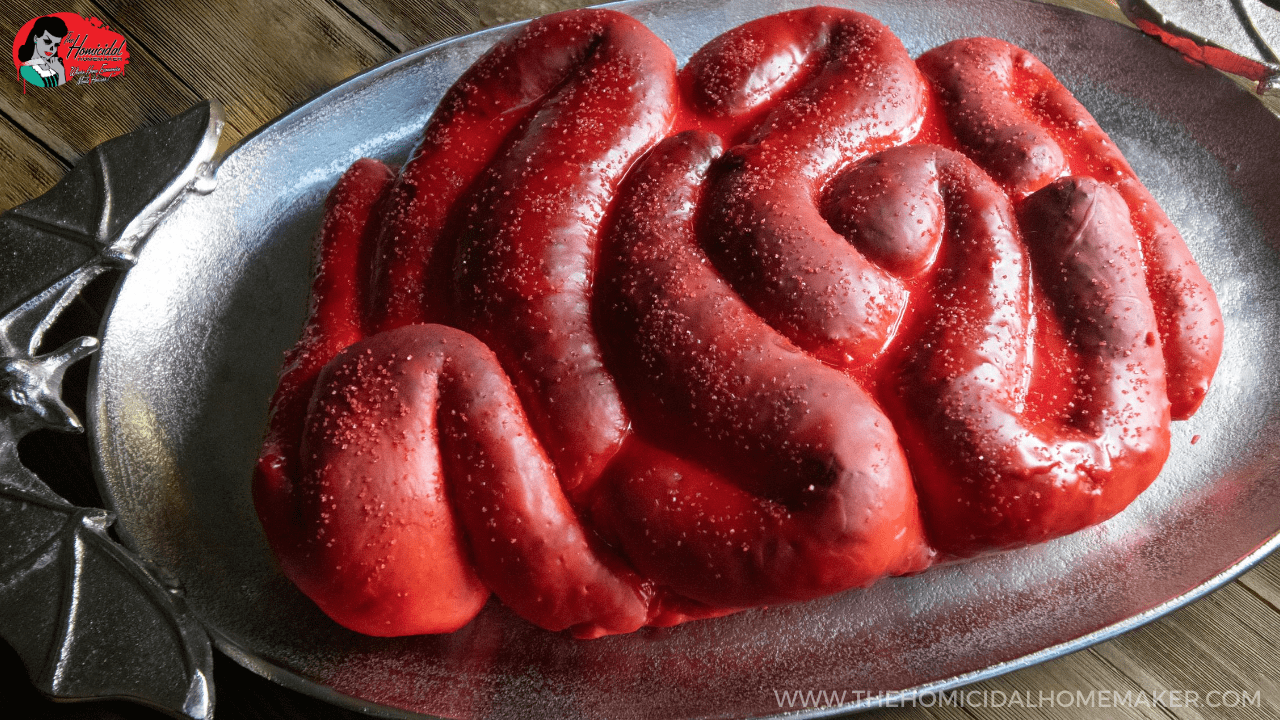 Ingredients
Buttery Sweet Dough
4 1/2 Cups all-purpose flour
1/2 Cup granulated sugar
1 (.25 ounce) package instant yeast
3 large eggs, room temperature
1 stick (8 Tbsp) salted butter, softened
3/4 cup buttermilk
1 Tbsp vanilla extract
Red gel food coloring
Citrus-Spice Cream Cheese Filling
1 (8 oz) package cream cheese, softened
1 1/2 Cups confectioners sugar
2 Tbsp all-purpose flour
Zest of one large lemon
Juice of 1/2 a large lemon
1 teaspoon vanilla extract
1/4 tsp freshly-grated nutmeg
1/4 tsp ground cinnamon
Red gel food coloring
Blood-Red Citrus Glaze
2 Cups confectioners sugar
4 tsp light corn syrup
4 tsp water
4 tsp fresh lemon juice
1 tsp vanilla extract
Red gel food coloring
Other Ingredients
Red colored sugar
Halved pecans, or food-safe King Cake babies
What To Do
For the dough
1
In the bowl of a stand mixer fitted with a dough hook, combine the flour, sugar, and instant yeast.
In a separate bowl, whisk the eggs.
In another bowl, melt the butter; mix in the buttermilk. Heat in 30-second increments until it reaches 110 degrees F. Add 1/3 of the warm buttermilk mixture into the beaten eggs; whisk together, and then add the remaining buttermilk mixture. Continue to whisk until the mixture has cooled slightly to 100 degrees F.
Turn the stand mixture to medium-low speed, and add in the buttermilk-egg mixture. Mix for about 10 minutes until you have a firm but elastic dough that is pulling away from the sides of the bowl.
Turn the dough onto a lightly floured work surface. Add a couple of drops of red food coloring, and knead for one minute. You want the dough to have a marbled effect (it looks cool and gives it more of a "meaty" look when the cake is sliced).
Form the dough into a ball and place it into a greased bowl. Cover with plastic wrap and let rise in a warm place until doubled in size, approximately 1 1/2 to 2 hours. Note: I like to heat a mug of hot water in my microwave, and leave the bowl with the dough in the microwave with the mug. Keep the door shut, and the steam should help the dough should rise within half to 3/4 of the usual time.
For the filling
2
In a medium sized bowl, mix together the softened cream cheese, confectioners sugar, flour, lemon zest and juice, vanilla extract, nutmeg, and cinnamon until smooth. Add a drop or two of red gel food coloring and mix until combined. Chill in refrigerator until read to use.
For the glaze
3
Prepare icing after cake has fully-cooled. In a medium sized bowl, mix together the confectioners sugar, corn syrup, water, lemon juice, vanilla extract, and a drop or two of red gel food coloring until you have a thick but slightly-runny consistency.
To prepare
4
Preheat your oven to 350 degrees F.
Punch down the dough and turn it out onto a lightly floured surface. Roll the dough into a 12×30-inch rectangle. Cut the rectangle in half, to get two 12×15-inch rectangles. Then cut each rectangle into 3 strips. Lightly pull and stretch each strip.
Put the cream cheese filling into a piping bag, or a large Ziplock bag with the corner trimmed. Squeeze a line of filling onto the center of each strip. Using a bit of water, lightly dampen the edges of the dough. Fold the dough over to create a tube, pinching the seams to seal in the filling. Pinch the ends shut. Repeat for each strip.
On a large baking sheet lined with parchment paper, arrange the strips to resemble intestines. Use a bit of water to stick the ends of each strip together.
Bake the arranged cake in the preheated oven until golden brown, about 20 to 25 minutes.  It is important not to let the cake overbake or get overly browned; it will dry out the soft, delicious, and chewy texture! Remove from oven and allow to cool.
Once the cake has cooled, transfer it to a baking rack over a cake pan. Cut random small slits into the bottom of the cake, and insert the pecans or King Cake Babies. This is for the Victor Crowley Victim Game when you serve the cake (see below!). Prepare the glaze and pour it over the cake, using a spatula to work it into all of the nooks and crannies of the cake. Once the glaze has slightly-set, sprinkle on the red colored sugar.
Once the glaze has fully-dried (around 30-45 minutes), transfer the cake to a serving platter and enjoy!
Victor Crowley Victim Game
5
A King Cake traditionally has a small plastic baby, pecan half, or a dried bean inserted into it after baking. Whoever gets the slice with the baby/pecan/bean gets to host the Mardi Gras party, or make the King Cake, the following year.
For my Victor Crowley Victim Game twist, I have inserted multiple "tokens" into the cake. Everyone who gets one of these in their slice has fallen victim to the wrath of Victor Crowley! Depending on how you slice the cake…there could be one survivor, or NONE. I'll leave it up to you how to decide to reward the winner of the game!
If you enjoyed this post, please consider becoming a supporter on Patreon for just $1 a month!