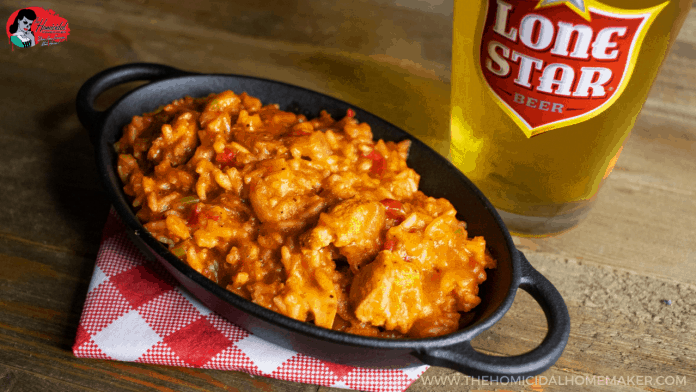 Spice up your Friday night with a new episode of The Last Drive-In with Joe Bob Briggs, and a big 'ole pot of vegan-friendly, spicy Lone Star Beer Jambalaya!
"Hey everybody, have you heard the news? Joe Bob is back in town!"
If you're a fan of The Last Drive-In with Joe Bob Briggs on Shudder, then I know you can hear the song in your head!
But seriously…if you haven't heard the news, Joe Bob is back, Friday, August 14, 2020, for a Summer Sleepover special.
I wanted to cook up a main course to go along with my Victor Crowley's King Cake recipe that I baked up for the special, and since Adam Green is one of the confirmed guests for Friday's event, I wanted to further embrace the Cajun theme of the Hatchet films. Spicy Jambalaya did the trick!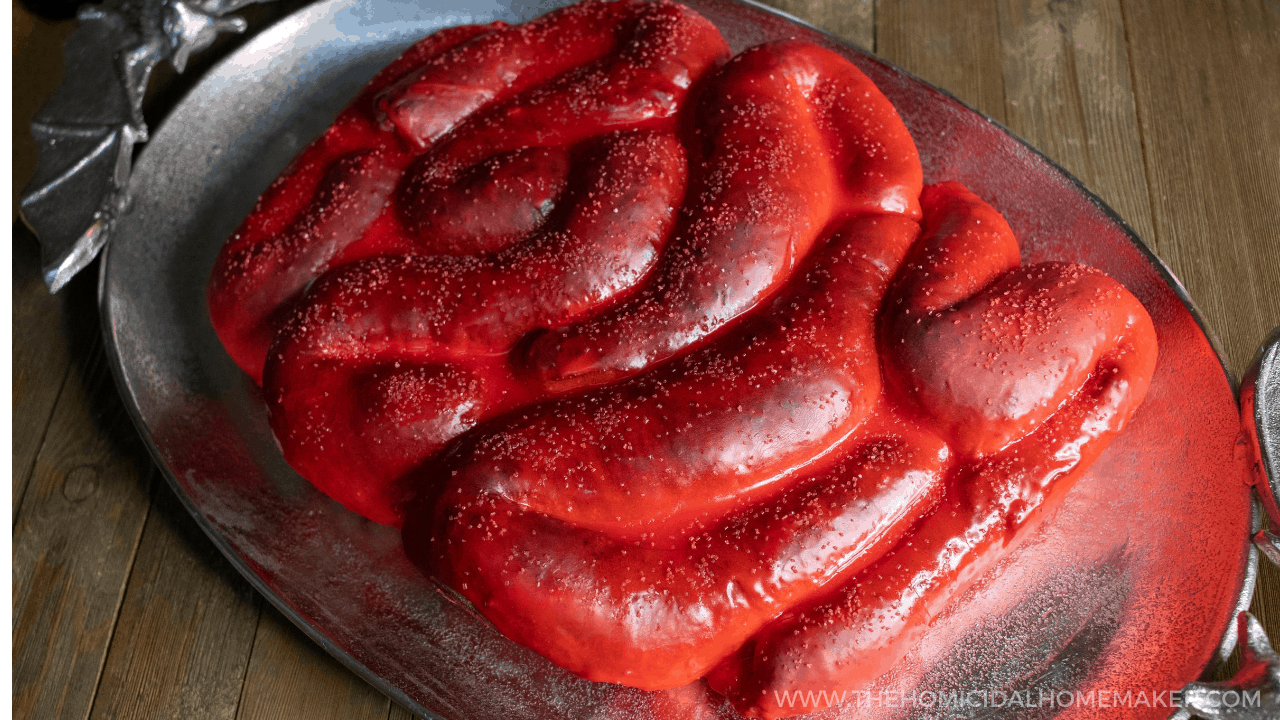 Being a vegetarian, and knowing that Darcy the Mail Girl is a vegan, I wanted to try my hand at a vegan Jambalaya that is just as hearty, spicy, and satisfying as the Jambalaya that one is used to.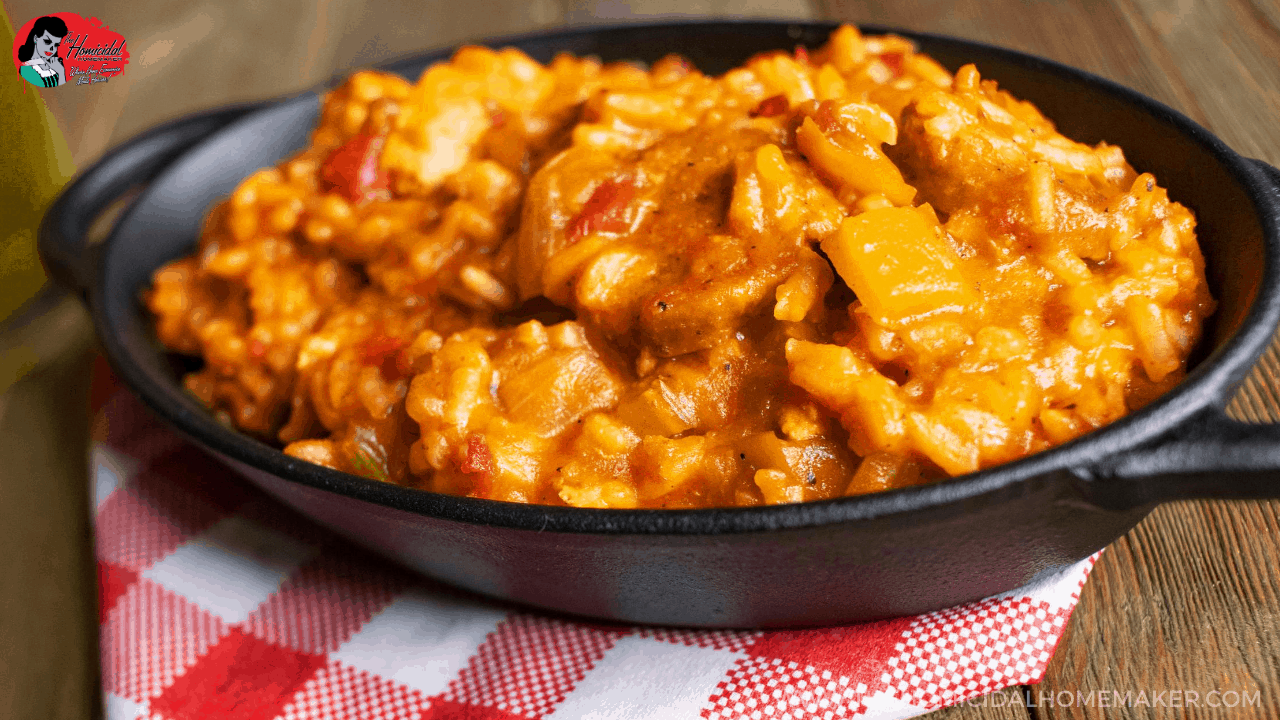 Using Tofurky's Zesty Andouille Sausage and Beyond Meat Chicken Strips, this Jambalaya could fool any seasoned carnivore. This Jambalaya is a party in a pot, and it's generously spiked with Joe Bob's favorite brew—Lone Star Beer. Serving this with sour cream and a squeeze of lime further elevates the flavors. I hope you enjoy it as much as we did!
"The Last Drive-In" Lone Star Beer Jambalaya – Vegan Friendly!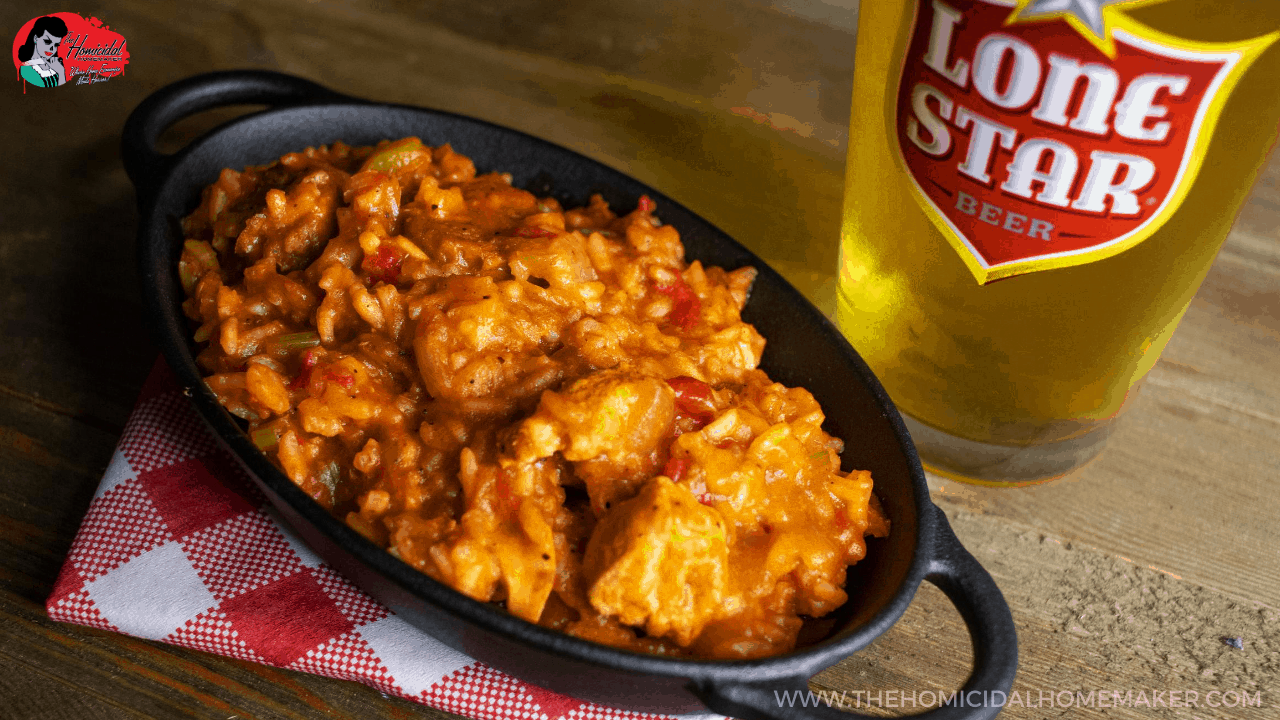 What You Need
2 Tbsp vegetable oil
3 tsp minced garlic
1 Green bell pepper; seeded and diced
1 whole sweet onion; diced
4 ribs celery; finely chopped
1 package Tofurky Zesty Andouille vegan sausage; sliced into coins
1 package BeyondMeat chicken strips
3 Tbsp Cajun seasoning mix (I used Slap Ya Mama Original Blend)
2 14.5-oz cans Rotel (tomatoes and green peppers)
1 6-oz can tomato paste
24 oz (3 Cups) Lone Star Beer (or any light ale or lager)
1 tsp Better Than Bouillon No Chicken Base
2 Cups long grain white rice
Sour cream & lime wedges, for serving
What To Do
1
In a deep pot over medium heat, heat the vegetable oil. Add in the bell pepper, onion, celery, and garlic. Sauté together for about 5 minutes, just until the vegetables have softened. Next, add in the andouille sausage and chicken strips, letting cook another 5 minutes.
Add in the beer, Rotel, Better Than Bouillon, and Cajun seasoning. Stir, and allow to come to a boil. After the pot has come to a boil, turn down the heat to a simmer and allow to cook for 20 minutes, letting all those flavors mingle with one another.
The base of the Jambalaya should be a deep reddish brown color. Mix in the tomato paste and rice, cover, and reduce the heat to low. Make sure you stir the mixture frequently every few minutes—the mixture is thick, and you don't want your rice to burn or stick to the bottom of your pan. Cook for 20-30 minutes, until rice is softened. If the mixture seems like it does not have enough liquid for the rice, add in additional beer or water, 1/2 Cup at a time. Once the rice has cooked, it's time to enjoy! Serve with a generous dollop of sour cream and squeeze of fresh lime juice.
Now, pour yourself a nice, cold Lone Star, and enjoy it alongside a big bowl of this spicy Lone Star Beer Jambalaya! Don't forget—there's cake for dessert, too!
If you enjoyed this post, please consider becoming a supporter on Patreon for just $1 a month!