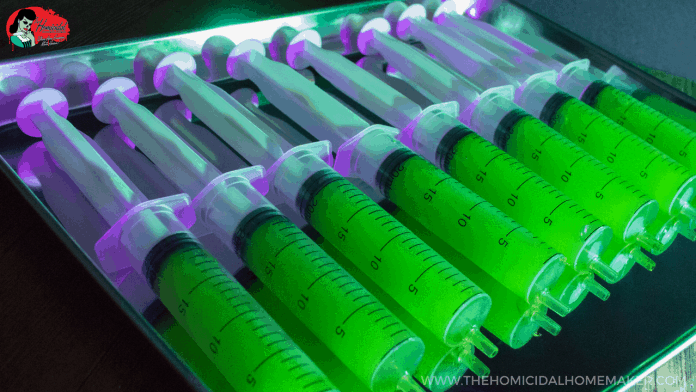 Re-Animate Your Tastebuds with Re-Animator Reagent Serum Jelly Shots!
When You're Partying Hard…They Will Give You Life!
Every Friday the 13th, horror fans all over the world partake in their usual shenanigans…toasting marshmallows, wielding a machete, sportin' a hockey mask, slashin' up campers…and marathon-ing the Friday the 13th franchise.
But tomorrow, Friday, July 13th, 2018, horror fans all around the world will be celebrating a different way – with Shudder's exclusive 24-hour marathon of The Last Drive-In with Joe Bob Briggs.
Yes. You read that correctly. One of my all-time favorite horror hosts ever will be returning to the drive-in, one last time.
Now, before going any further about my recipes I developed for the marathon, I need to mention that if it weren't for Joe Bob Briggs, I would not have grown up into the person I am today. Some of my fondest memories are watching Drive-In Theatre and Monstervision with my dad. I love spooky horror hostesses as much as everyone else, but with Joe Bob, I always felt that I could closely relate to him. I loved his sense of humor, perspective, and just the good fun that I had while watching him. I felt that he truly stood out from any and all horror hosts I had watched. Plus, he was pretty easy on the eyes, too! It was all a winning combination, and felt like he was a real person you could sit and enjoy your favorite flicks with.
In fact, when my friend Evan (you know him from getting killed multiple times on my show) and I first met, we bonded by talking about our love for Joe Bob Briggs and Monstervision. So needless to say, as soon as we heard about the event, we immediately texted each other in excitement.
Of corpse, in the true fashion of The Homicidal Homemaker, I wanted to create some themed snacks to celebrate Joe Bob's long-overdue return to television!
This first one is a revised (or would it be re-animated?) version of one of the original recipes first published on The Homicidal Homemaker website in 2012 – my Re-Animator Reagent Serum Jelly Shot Syringes, an homage to one of my favorite films and my not-so-secret crush on Herbert West.
Before, these were solely a glowing-green gelatinous, boozy concoction in a syringe. But my re-animated version includes hyper-caffeinated soda (or an energy drink) for a little extra boost of "life" during the marathon!
If gelatinous alcohol isn't really your thing, fear not! My friends over at Geeks Who Eat also have shared a delicious Miskatonic Reviver, a Re-Animator inspired cocktail!
Re-Animator Reagent Serum Jelly Shot Syringes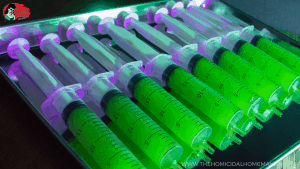 What You Need
1 tablespoon unflavored gelatin
1/4 cup green hyper-caffeinated soda (such as Surge, Mtn. Dew, or Monster)
3/4 cup pineapple juice (canned/bottled...not fresh)
1/2 cup flavored vodka (I used Pinnacle Rainbow Sherbet vodka)
2 drops neon green food coloring gel (I used Americolor)
8 food-grade JELL-O shot syringes
What To Do
1
In a small mixing bowl, pour in the hyper-caffeinated soda. Sprinkle the unflavored gelatin granules over the top and set aside at room temperature (this is called "blooming" the gelatin).
In a small saucepan over medium-high heat, bring the pineapple juice to a simmer. Note: if using water in step one, you may need to add 1-2 tablespoons of granulated sugar to your pineapple juice.
Once the pineapple juice has come to a simmer, pour it into the "bloomed" gelatin, and stir until the gelatin has completely dissolved, approximately two minutes. Add in 2 drops of neon green gel food coloring, and whisk until completely mixed.
Allow the mixture to cool at room temperature for about 10-20 minutes. Then pour in your vodka, and stir to combine.
Use the plunger on the syringe to suck up the mixture until full. Using a box, pan, or glass, set the syringes upright on their ends, and chill in the icebox until firm (about 1 to 2 hours).
Much like a corpse, these need to stay chilled. So keep them in the icebox until ready to enjoy!
Check back tomorrow for my recipe for "Tourist Trap" inspired Slauson's Spicy Beer Chili!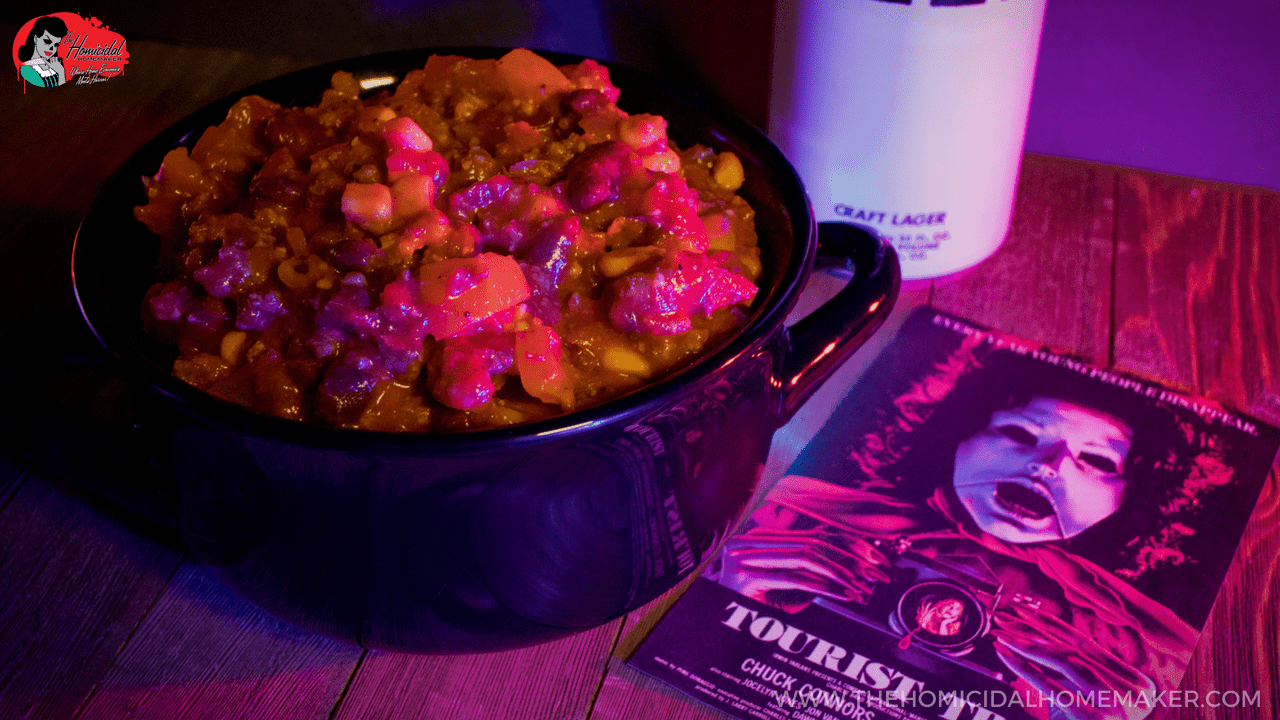 Sorry you didn't enjoy this post.
Help me improve!
What didn't you like, or what would you like to see?
If you enjoyed this post, please consider becoming a supporter on Patreon for just $1 a month!
Be sure to check out my other horror themed recipes, horror cocktails, and my YouTube channel for more fun episodes of my horror cooking show, tutorials, cocktails and much more! And if you've created something using one of my recipes, don't forget to tag me on Facebook, Instagram, TikTok, or Twitter, and use the hashtag #HomicidalHomemaker for a chance to be featured!