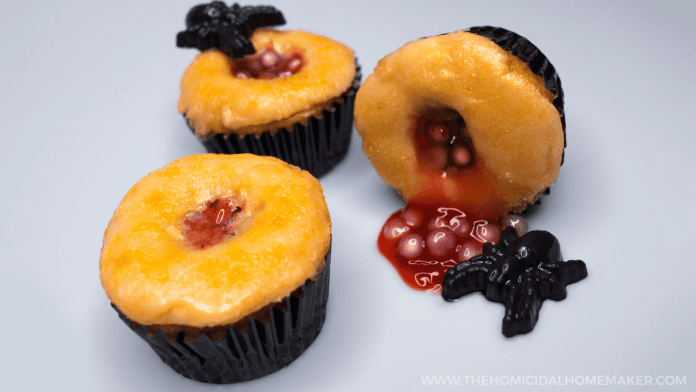 Arachnophobes, be warned—this recipe may not be for you! In the short story 
"The Red Spot"
 from the book 
Scary Stories to Tell in the Dark
, a young girl wakes up with a peculiar blemish after discovering a spider crawling on her cheek.
During a hot, relaxing bath, the blemish bursts, unleashing a swarm of tiny spiders that had hatched from the eggs their mother had laid in her face!
My recipe for "The Red Spot" cupcakes features large chewy tapioca "spider eggs" and cherry pie filling "blood" festering beneath a slightly crunchy, caramelized "skin," topped with a candy spider. They're the perfect treat to enjoy while watching the new Scary Stories to Tell in the Dark movie!
This recipe was featured in issue #189 of 

Rue Morgue Magazine

, and was previously featured on Rue Morgue TV!
Scary Stories to Tell in the Dark "The Red Spot" Spider Egg Cupcakes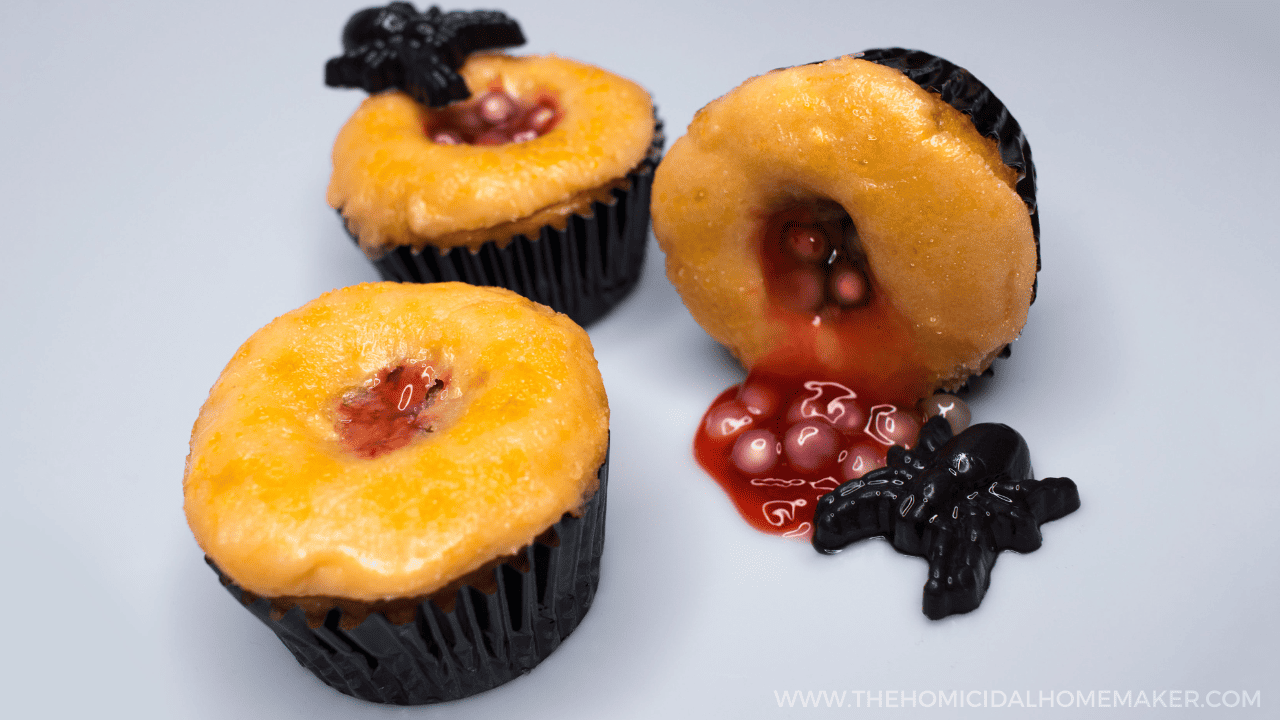 Yield

8 cupcakes

Serving Size

1 cupcake

Energy

424 cal
What You Need:
Cupcakes
¾ Cup all-purpose flour
½ Cup granulated sugar
⅛ teaspoon baking soda, heaping
½ teaspoon baking powder, heaping
⅜ Cup salted butter, softened
2 egg whites
½ Tablespoon vanilla extract
¼ teaspoon vanilla bean paste, optional
¼ Cup sour cream
¼ Cup heavy cream
Buttercream Icing
2 Cup confectioners sugar
½ Cup salted butter, softened
1 ½ teaspoon vanilla extract
1-2 Tablespoon heavy cream
Flesh-toned gel food coloring
Additional Supplies & Ingredients
4 oz. cherry pie filling
¼ Cup large pearl tapioca, cooked to package directions
Large pastry bag fitted with round tip
Granulated sugar
Culinary torch
Spider-shaped candy mold
Black candy melts
What To Do:
For the Cupcakes
1
The day before, prepare the cupcakes: begin by preheating your oven to 350° Line a cupcake pan with 8 cupcake liners.
In a bowl, sift together the dry ingredients. In a second bowl, mix together the wet ingredients.
Gradually add the wet ingredients to the dry, mixing just until combined.
Fill cupcake liners ¾ of the way full. Bake for 15-20 minutes. Allow to fully cool. These cupcakes are best served the day after baking.
For the Buttercream Icing
2
In a stand mixer with a paddle attachment, cream the butter until light yellow and fluffy. Gradually add in the confectioners sugar. Add in the heavy cream, vanilla extract, and vanilla bean paste. Add a small amount of gel food coloring to get the desired flesh tone. Transfer the icing to a large pastry bag fitted with a large round tip.
Assembling the Cupcakes
3
Before assembling, cook the tapioca pearls to package directions. Allow to cool.
Using the end of a large pastry tip, hollow out a small portion of each cupcake. Add a small amount of cherry pie filling to each hollow, topping with tapioca and additional cherry pie filling.
Pipe buttercream icing around the edge of each cupcake. Dip the tops of the cupcakes into granulated sugar. Refrigerate for at least 30 minutes.
While the cupcakes are chilling, melt the candy melts and pour into moulds. Refrigerate until hardened and remove from moulds.
Once the icing has hardened, use a culinary torch to caramelize the sugar on the tops of the cupcakes. Allow to cool before adding the candy spiders to each cupcake, and serve.
Featured in Rue Morgue Magazine and on Rue Morgue TV.
Sorry you didn't enjoy this post.
Help me improve!
What didn't you like, or what would you like to see?
If you enjoyed this post, please consider becoming a supporter on Patreon for just $1 a month!
Be sure to check out my other horror themed recipes, horror cocktails, and my YouTube channel for more fun episodes of my horror cooking show, tutorials, cocktails and much more! And if you've created something using one of my recipes, don't forget to tag me on Facebook, Instagram, TikTok, or Twitter, and use the hashtag #HomicidalHomemaker for a chance to be featured!