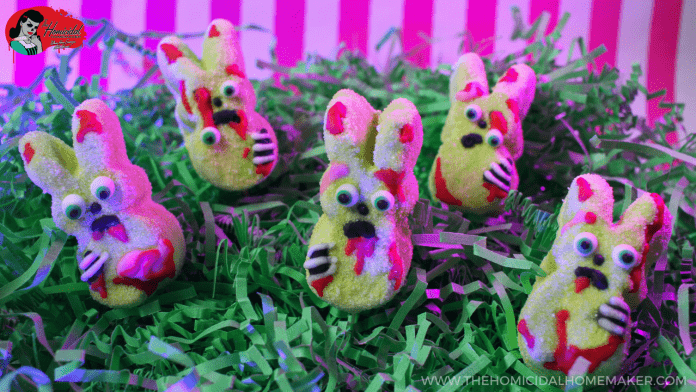 Reanimate Your Tastebuds with Booze-Infused Zombie Bunny Marshmallows!
However you may feel about certain popular sugar-coated, marshmallow treat that is resurrected for every holiday, reanimate your tastebuds with a boozy, homemade version with a zombie twist that will certainly make your Easter egg hunts a little more interesting.
Not only are these Boozy Zombie Bunny Marshmallows tasty on their own, they're also great in hot chocolate during the winter months, or roasted over campfires during the summer.
Boozy Zombie Bunny Marshmallows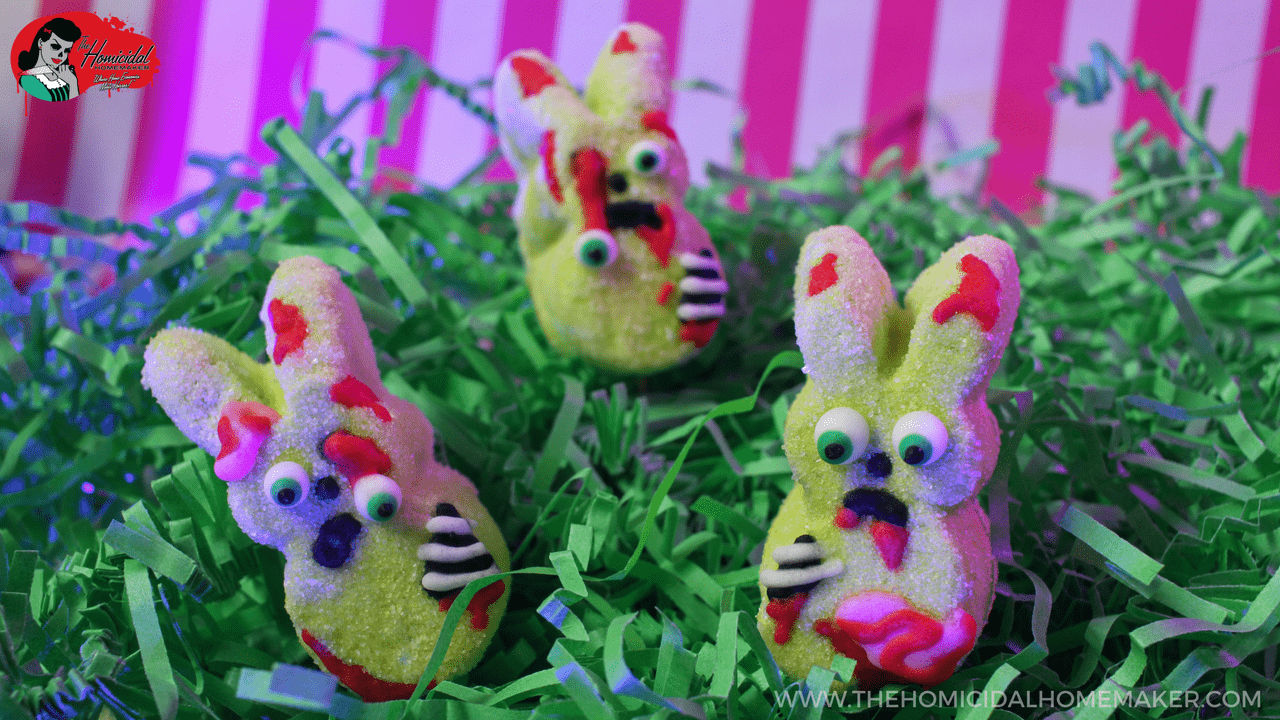 What You Need:
Marshmallows
3/4 C. cold water
2 packets unflavored gelatin powder
2 T. liqueur (optional)
3/4 C. granulated sugar
1/2 C. light corn syrup
2 t. clear vanilla extract
1 pinch salt
Icing
1 C. powdered sugar
1 T. meringue powder
2 T. water
1/4 t. clear vanilla extract
Other Supplies
1/2 C. granulated sugar
Gel food coloring (red, pink, black, green)
Candy thermometer
Pastry bags
Rubber spatula
Non-stick cooking spray
Small cake pan
Bunny-shaped cookie cutter (or silicone mold)
What To Do:
For the Marshmallows
1
In the bowl of a stand mixer, whisk together 1/2 cup of water with the 2 packets of gelatin. Spray your cake pan or silicone mold with cooking spray and set aside.
In a medium saucepan, stir together the remaining 1/4 cup of water, liqueur*, granulated sugar, corn syrup, and salt. Heat the mixture over medium heat until it reaches 240° F.
Turn the mixer on low and slowly drizzle the sugar mixture in a steady stream down the side of the bowl. Once the entire mixture is in, increase the speed to high, and mix for 10-12 minutes. Add green gel food coloring and clear vanilla extract during the last minute of mixing.
Immediately pour the mixture into your cake pan, or place into pastry bag and pipe into mold. Allow to set for 10 minutes before cutting with cookie cutter or removing from molds.
To decorate, roll marshmallows in granulated sugar, and use icing in pastry bags to add faces, blood, internal organs, and bones.
Allow to fully dry before storing in an air-tight container.
*If omitting liqueur, simply substitute with an additional 2 T. of water.
For the Icing
2
Combine powdered sugar and meringue powder in the bowl of a stand mixer.  Slowly add the water and extract; beat at medium-high speed until stiff peaks form (approximately 5-7 minutes). Divide into bowls and color with gel food coloring (I used white, red, pink, black, and green icing). Transfer to pastry bags or covered dish until ready to use.
©Copyright 2010-2018 The Homicidal Homemaker® - All rights reserved. No content may be redistributed, copied, or modified without express written permission. No recipe or tutorial may be used for profit or any other commercial use.
If you loved these Boozy Zombie Bunny Marshmallows, be sure to check out my other Rue Morgue Magazine exclusive recipes, and my YouTube channel for more fun episodes of my horror cooking show, tutorials, cocktails and much more! And if you've created something using one of my recipes, don't forget to tag me on Twitter or Instagram & use the hashtag #HomicidalHomemaker for a chance to be featured!
Help support this site! Become a patron for as little as $1/month!
Become a Patron!
Can't commit monthly? Please consider making a one-time donation on my Ko-Fi page!