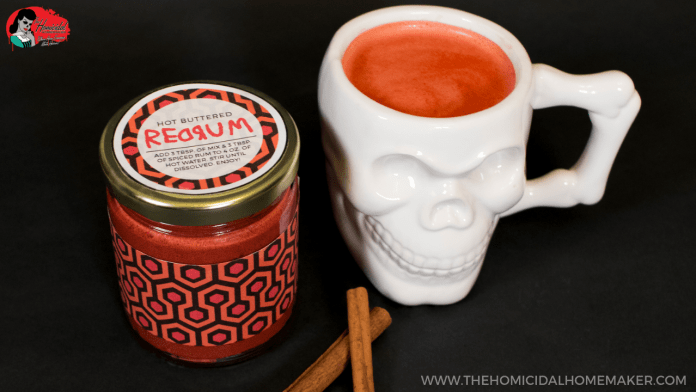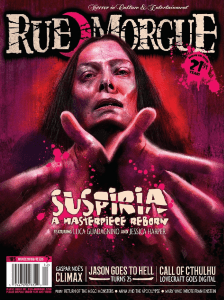 All work and no play during the holidays can give anyone the urge to grab the nearest axe and go full-on Jack Torrance on their family.
Warm up with a mug of Hot Buttered REDRUM inspired by "The Shining"!
This blood-red twist on a classic Hot Buttered Rum will help keep you from freezing to death out in the cold hedge maze, with a generous splash of spiced rum to calm those nerves.
The prepared mix also makes an easy and inexpensive holiday gift without requiring much by way of muscular coordination. Find the printable labels below, and don't forget to tag me on social media if you make the recipe!
The Shining Hot Buttered Redrum Cocktail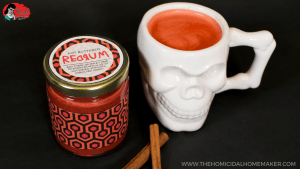 What You Need
REDRUM Mix
3/4 cup dark brown sugar, packed
1/2 cup salted butter, room temperature
1/2 teaspoon ground cinnamon
1/2 teaspoon freshly-ground nutmeg
1/4 teaspoon ground cloves
1 teaspoon of vanilla extract
Red gel food coloring
Other ingredients
Spiced rum (I used Deadhead Dark Chocolate Rum)
Hot water or apple cider
What To Do:
For the Mix
1
Using an electric mixer, mix together the brown sugar, butter, vanilla extract, and spices until blended and smooth. Add in gel food coloring and mix until blended. Transfer the mixture to an airtight container. Refrigerate for up to three weeks, or store in the freezer for up to two months.
For each drink: add 3 tablespoons of the REDRUM mix to a mug. Top with 4 oz. of hot water (or apple cider). Stir to dissolve. Add in 3 oz. of spiced rum (or more, to taste). Stir, and enjoy.
This mix makes a great holiday gift in a jar! Free printable labels below!
Did you make this Hot Buttered REDRUM cocktail recipe inspired by "The Shining"?
Be sure to snap a photo and hashtag it #homicidalhomemaker and #ruemorguemag for a chance to be featured!
If you enjoyed this post, please consider becoming a supporter on Patreon for just $1 a month!