Send your tastebuds to the Upside Down with my Demogorgonzola Tartlets — a Stranger Things recipe!
Stranger Things season 3 is premiering on Netflix at midnight, and to say that I'm excited would be a huge understatement. As a child of the 1980's, this show is very nostalgic for me, and combined with my love of 80's music, films, fashion, and aesthetic, I immediately was a fan the moment I watched episode one of the first season.
So of course, to celebrate the premiere of season 3, I decided to send my show straight to the Upside Down and conjured up a Stranger Things recipe for these Demogorgonzola Tartlets inspired by the show.
Fun fact: my actual birthday is November 6, the day Will disappears to the Upside Down.
So, for those of you not familiar with the show, the Demogorgon is the nemesis on season one of Stranger Things. But it returns in the second season in a more horrific form—a demogorgon-dog monstrosity (or demo-dogs) along with a Shadow Monster.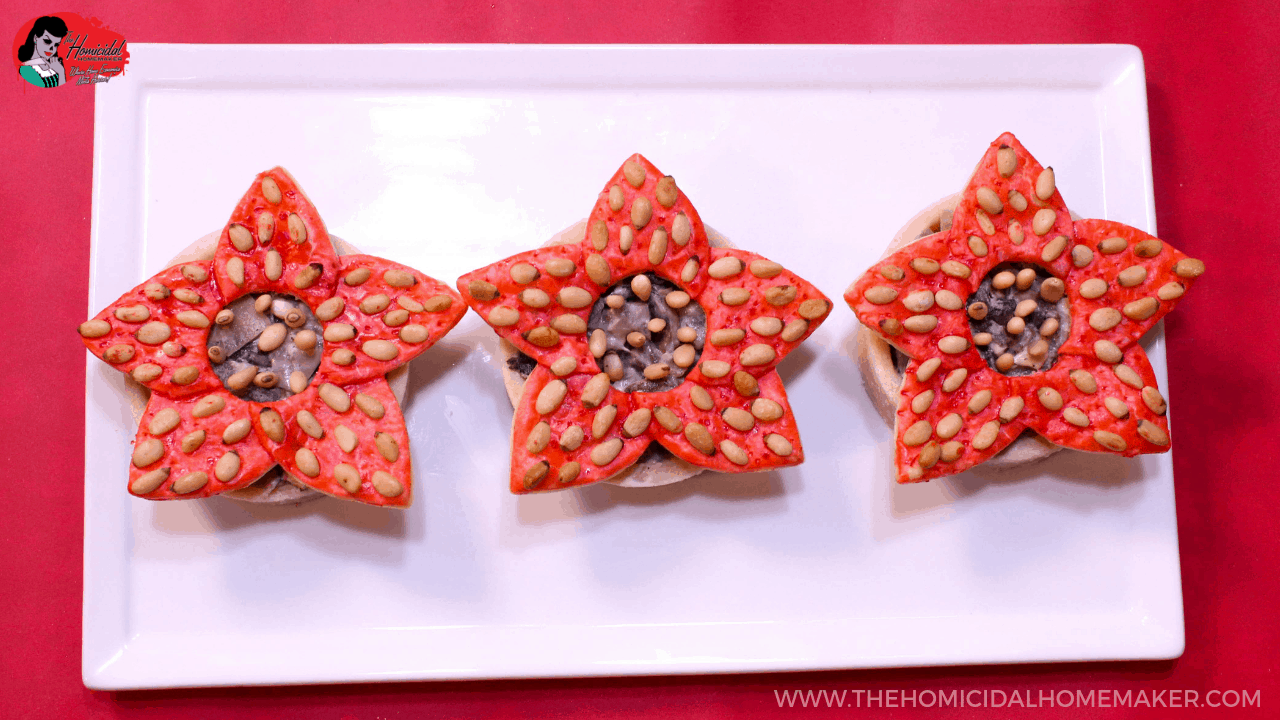 One of the most terrifying things about the demogorgon is that it's entire face opens up like a hideous flower…into a disgusting mouth covered in teeth, ready to take a bite out of you.
My Stranger Things recipe for these Demogorgonzola Tartlets are inspired by the demogorgon's terrifying face, and starts off with a flaky, buttery crust topped with a mixture of sauteed mushrooms, onions and Gorgonzola cheese, and then garnished with a pine nut studded demogorgon face.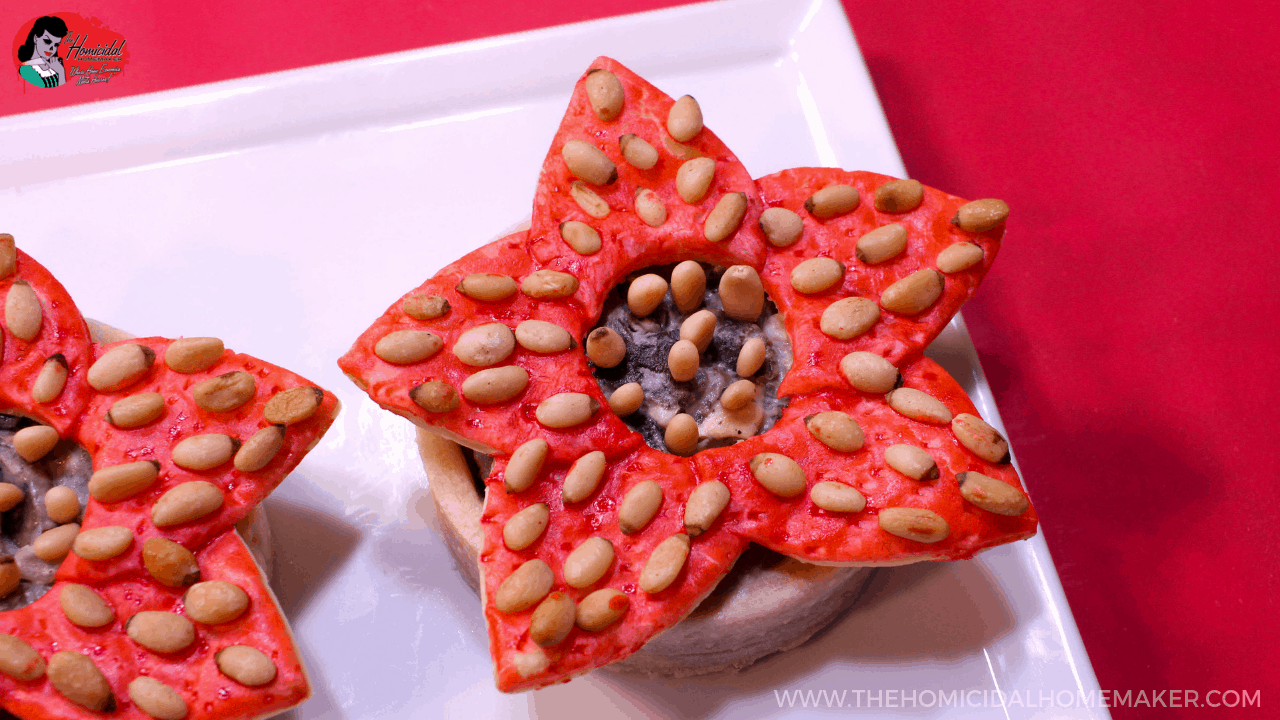 Bite back at that demogorgon by baking up these Demogorgonzola Tartlets for your Stranger Things season three viewing party!
Are you excited for season three of Stranger Things? Who is your favorite character on the show? Be sure to leave a comment below letting me know what you think of my Stranger Things recipe for Demogorgonzola Tartlets!
Demogorgonzola Tartlets – A Stranger Things Recipe from the Upside Down
Send your tastebuds to the Upside Down with my Demogorgonzola Tarlets — a Stranger Things recipe!
Prep Time

45 min

Cook Time

40 min

Total Time

1 hr 25 min
What You Need:
Tart Dough (Pâte Brisée)
1 C. + 1 C. and 3 T. all-purpose flour, divided
2 sticks (4-oz each) cold salted butter, cut into 1/4-inch cubes
1/4 C. ice water
Mushroom, Onion & Gorgonzola Filling
2 T. salted butter
16-oz fresh mushrooms, sliced
1 large sweet onion, chopped
2 T. pure maple syrup (or honey)
4-oz Gorgonzola cheese, crumbled
Salt and pepper, to taste
Extra Supplies & Ingredients
1 egg, beaten with 1 T. of water
Red gel food coloring
Pine nuts
Food-safe paint brush
Fork
Round pastry cutters
Petal shaped pastry cutters
Baking sheet
Parchment paper (or a silicone baking mat)
Rolling pin
Vegan Variations
Non-dairy cheese (sharp varieties work best)
Aquafaba or vegan egg-wash substitute (2 T almond milk + 1 T corn syrup)
Vegan butter subtitute (such as Earth Balance or MELT)
What to Do:
For the Pâte Brisée (Tart Dough)
1
In the bowl of a stand mixer fitted with a paddle attachment, add 1 C. all-purpose flour. Turn the mixer to low speed, and add the chunks of butter a small handful at a time. Once all of the butter has been added, increase the speed to medium-low and mix 1 minute, just until the butter is evenly blended. Scrape down the sides and bottom of the bowl, turn the speed down to medium-low, and add the remaining 1 C. + 3 T. all-purpose flour, and mix just until combined. Add in the ice water a little at a time, and mix until incorporated. The dough should feel smooth and not sticky.
Pat the dough into an 8-inch disk, wrap in plastic wrap, and refrigerate for at least an hour, but preferably overnight, until ready to use.
To assemble/bake: rolling out your pie crust to 1/8″-thick, and line your tart rings or pans. Place them in the freezer for at least 30 minutes, and then bake for 15-20 minutes at 350 degrees Fahrenheit. Freezing the dough before baking ensures you don't have to 'blind bake' your tart shells.
For the Demogorgon Faces
2
Roll out the remaining dough and cut out 4 large petals and one small petal for each tart.
Beat the egg with one tablespoon of water, and brush the edges of each petal with the egg wash. Attach the pieces together, and then use a round cutter to cut out the center.
Poke each petal several times with a fork before placing in the freezer for at least 30 minutes.
Add a small bit of red gel food coloring to the remaining egg wash. Remove the Demogorgon faces from the freezer. Brush each petal with the red egg wash, and top with pine nuts. Bake for 12-15 minutes at 350 degrees Fahrenheit.
For the Filling
3
Melt the salted butter in a large pan over medium heat. Add the mushrooms and onions and cook for 8-10 minutes, just until lightly browned. Add in the maple syrup (or honey), and season with salt and pepper to taste. Mix in the Gorgonzola cheese, and remove from heat.
Spread the mushroom mixture into each tart shell. Top with a Demogorgon face just before serving.
For the Filling
4
FOR VEGAN VARIATION: substitute a vegan butter substitute or vegetable shortening for the butter in the pate brisee. In the filling, substitute vegetable oil or vegan butter, and a vegan cheese alternative (sharp varieties of cheese work best). For the demogorgon faces, use a vegan egg-wash substitute in place of the egg (aquafaba works great, or make your own with 2 T of almond milk + 1 T of corn syrup).
If you absolutely cannot stand Gorgonzola cheese, try substituting it with Feta, or any sharp, aged cheese.
If you enjoyed this post, please consider becoming a supporter on Patreon for just $1 a month!