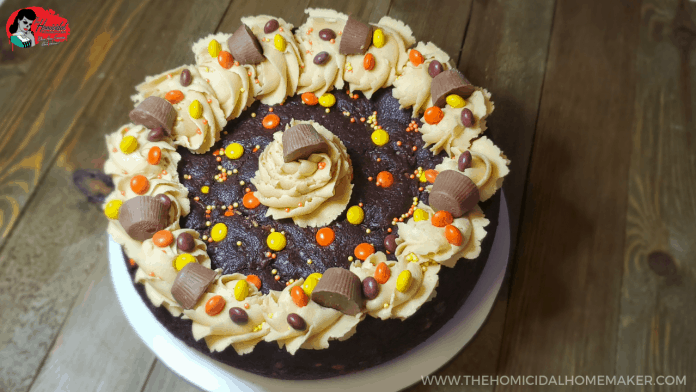 This Chocolate Peanut Butter Cookie Cake is what dreams are made of…
Easy as cookies, pretty as a cake, and decadent as brownies, this is definitely one of my favorite recipes I've created!
August is always a busy month for me. We're just on the cusp of the most wonderful time of the year—the Halloween season. But on top of that, it also bears the birthday of many important people in my life. So I tend to bake a lot of sweets during the month of August, or at least, more-so than I usually do.
Except this year, I'm still battling this blasted wrist/hand injury which has prevented me from prepping anything too crazy. But what is a birthday without cake?! I knew I wanted to make something extra-special for a double-birthday celebration, and I had two requirements. First off, it had to include lots of chocolate and peanut butter, and secondly, it had to be easy and something that wouldn't require much decoration, due to my hand/wrist.
So with my trusty KitchenAid stand mixer, I got to mixing, and concocted the most delicious dark chocolate cookie dough. And from there, I kicked it up a notch by turning it into a cake. But not just any cake… a Chocolate Peanut Butter Cookie Cake filled with chocolate and peanut butter chips, mini Reese's Peanut Butter Cups, mini Reese's Pieces, and topped with a delicious peanut butter icing.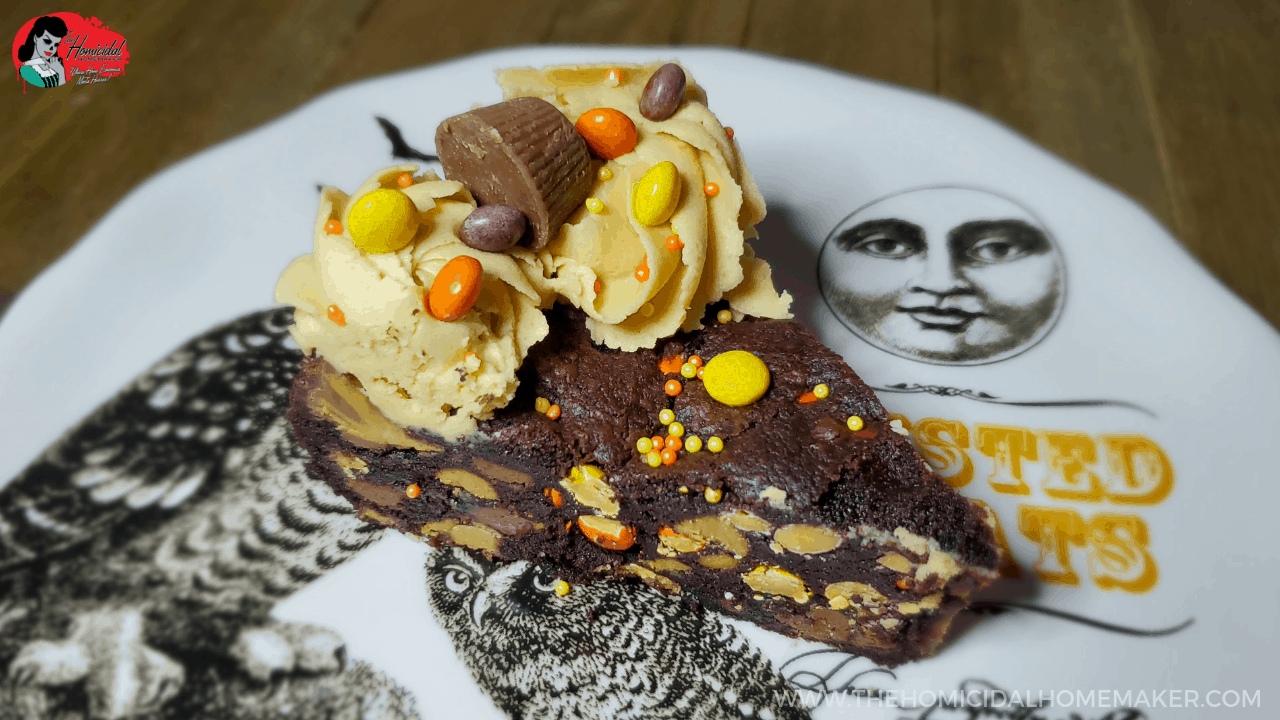 This Chocolate Peanut Butter Cookie Cake isn't for the faint of heart. While it's incredibly rich, it's still soft, chewy, and deliciously chocolatey. Not to mention, "thick AF" as some may say. We couldn't stop eating it!
The dough couldn't be any easier to put together, and the mini Reese's pieces add the beautiful colors of fall to the dark backdrop of chocolate cookie dough, making this a perfect Halloween dessert.
Important note: this will not rise up like a regular cake—however thick it is when you spread it into the pan before baking, is how thick your cookie cake will be after it's baked.
I used a 7-inch springform pan, but an 8-inch pan would also work (the cookie cake just won't be as thick). Either way, it will still be thick, soft, chewy, and oh-so-delicious! A standard cake pan (or cast-iron skillet!) would also work well, but I wanted to ensure easy removal of the cookie cake from the pan, which is why I opted for my spring form pan.
I hope you enjoy this Chocolate Peanut Butter Cookie Cake as much as my family and I did. We felt like we all died and went to chocolate peanut butter heaven, and destroyed it by the next day. It was the perfect end to a busy double-birthday weekend.
Chocolate Peanut Butter Cookie Cake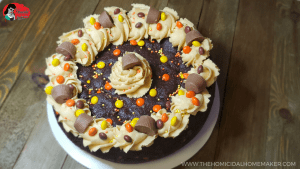 Prep Time

10 min

Cook Time

20 min

Total Time

30 min
What You Need
Cookie Cake
3/4 C. salted butter, softened

1/2 C. brown sugar, packed

1/2 C. granulated sugar

1 large egg

1 Tbsp. vanilla extract

1 1/4 C. all-purpose flour

1/2 C. Hershey's Special Dark cocoa powder

1 tsp. baking soda

1/2 C. mini Reese's Pieces

1/2 C. Reese's Peanut Butter Cups Minis (or regular sized Reese's, cut into pieces)
Peanut Butter Frosting
1/4 C. salted butter

1/4 C. creamy peanut butter

1 tsp. vanilla extract

1 1/2 C. powdered sugar

1 Tbsp. heavy cream or milk
What To Do
For the Cookie Cake
1
In a medium bowl, whisk together the baking soda, cocoa powder, and flour.
In a separate bowl, or using a stand mixer fitted with a paddle attachment, cream together the butter and sugar until fluffy, about 3 minutes.
 With the mixer running at a low speed, mix in the egg and vanilla.
Add the flour mixture, and mix just until combined. With a sturdy wooden spoon, mix in the chocolate and peanut butter chips, mini Reese's Pieces, and mini Reese's Peanut Butter cups. Be prepared for a mini-workout—the dough will be very thick!
Cover the bowl with plastic wrap, and chill the dough for at least one hour (3-4 hours preferred).
Peanut Butter Frosting
2
Using a mixer, beat together the butter, peanut butter, and vanilla until smooth. Gradually add in the powdered sugar, and mix until combined.
 Add in just enough heavy cream or milk until the mixture is smooth and creamy.
Baking & Assembly
3
Pre-heat your oven to 350F.
Generously grease your cake pan with butter before placing a parchment circle in the bottom of the pan. Spoon and press the dough into the pan. A flat-bottomed heavy measuring cup lightly sprayed with cooking spray helps to give you a flat, even surface.
Bake for 18-20 minutes. The center will look slightly jiggly—don't worry! It will firm up as it cools. Allow to cool completely before removing from the pan.
Once completely cooled (you don't want your frosting to melt), use a pastry bag fitted with a star tip to add rosettes of the peanut butter frosting to the edge of the cookie cake. Garnish with additional mini Reese's Pieces, mini Reese's Peanut Butter Cups, and colorful sprinkles. Slice, and enjoy!
If you enjoyed this post, please consider becoming a supporter on Patreon for just $1 a month!