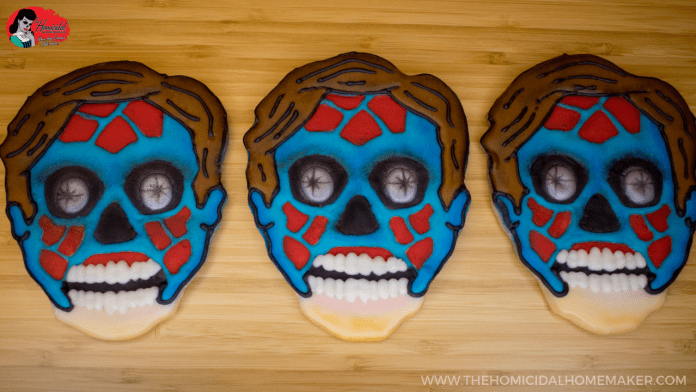 They Live Sugar Cookies (with bubblegum icing!)
"I have come here to chew bubblegum and kick ass. And I'm all out of bubblegum."
I was recently re-bitten by the cookie decorating bug, after a several year hiatus. I found that when I'm not making decorated cookies specifically for a recipient, I have a whole lot more fun decorating them. Perhaps it's because the pressure is off, there are no expectations, and I have free reign to run wild with my ideas.
That was the case here. I wanted a personal challenge, and in all honesty, I wasn't sure if I'd even be able to pull off making They Live sugar cookies. But overall, I am super happy with how these turned out! There are many things I'd do different if I were to try these again, but I'm really proud of myself for pulling these off.
So I apologize in advance that this 'tutorial' isn't very in-depth, steps are missing, and I sorta fast-forwarded to the end. I didn't intend on ever sharing my progress, and only snapped these photos for my own personal records, but thought that it would be a cool little perk for my Patreon supporters (you guys rock!).
I hope you guys enjoy seeing my progress, and please be sure to let me know what you guys think. If you enjoyed this, I'll be certain to produce more of these Patreon-only tutorials in the future, and do a better job of documenting any and all steps (even if I fail) to share with you all.
Tips for Rolling Out & Baking Cookies
First, make sure your dough is thoroughly chilled. This helps your cookies to retain their shape while baking. I recommend making your dough the day before, or allowing at least 3-4 hours before you plan on baking. You may need to let your dough rest at room temperature for about 10 minutes before you begin to roll it out.
Next, roll out your dough. I prefer to roll mine in between two sheets of parchment paper. I do this for a couple of different reasons: it allows me to roll out my dough without the need for adding additional flour to my cookie dough, it allows me to roll out my dough without it sticking to the rolling pin or counter top, and because the dough is touching the parchment paper, it allows for an easy cleanup – simply throw out the parchment paper when you're done! While you're rolling out your dough, it's a good idea to start pre-heating your oven.
For achieving an even thickness of dough, I highly recommend using ring guides on your rolling pin. I recently just upgraded to a Joseph Joseph rolling pin, which includes screw-in ring guides to ensure my dough is a uniform thickness.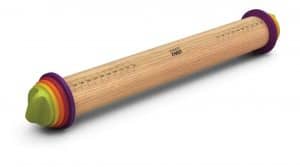 A lot of craft stores also carry silicone bands that slip on to the end of rolling pins, but you can always used 1/4" square wooden dowels on either side of your dough to keep your rolling pin at the correct height.
After your dough is rolled out, store it in the freezer for about 10 minutes, just to get it to firm up a little bit. You want your dough as cold as possible before it hits the hot oven.
I prefer to bake my cookies on silicone baking mats, but if you don't own any of these, go ahead and use that parchment paper you used while rolling out your cookies. This ensures your cookies don't stick to the cookie sheet, and eliminates the need for greasing your baking sheet. Bonus: it keeps your cookie sheets clean; just simply wash the silicone baking mats, or throw out the parchment paper.
Using a cookie cutter or a sharp knife (like I did here), cut out your cookie shapes. The chilled dough should be firm, and should allow you to easily transfer the cookies to your lined baking sheets. If I'm cutting out a lot of cookies to go in the oven at once, I pop the baking sheets into the refrigerator, just to keep my dough chilled.
When you're ready to bake, pop those baking sheets in the oven. The time and temperature will vary depending on which recipe you use and how large your cookies are, but I notice that most of my sugar cookies bake within 7-11 minutes. You want the edges to just barely start turning a golden color, and the top of the cookie is not shiny or greasy looking. My They Live sugar cookies were quite large (around 5″ tall) so they took about 12 minutes.
Preparing Your Icing
The great thing about icing, is that you can pretty much flavor it any way you want. With the sugar cookies allowing for a neutral tasting base, the sky is the limit when it come to flavors! Since baking can make a lot of alcohol-based flavors evaporate, I tend to leave the flavors that I want front-and-center to shine through the icing. I prefer using concentrated bakery emulsions in my cookies and baked goods, because they aren't alcohol-based and don't "bake out" in the oven.
For the icing, you can use standard flavorings, super-strength flavoring oils, or bakery emulsions.
SUPER IMPORTANT NOTE: if you're using Royal Icing to decorate your cookies, oil is the enemy. Even the tiniest bit of oil will cause the structure of the Royal Icing to break down. Any flavorings or colorants used must be free of oils (save those oil-based colorants for chocolate!), and mixing utensils and containers must be washed in hot soapy water prior to use (and if you want to be super-thorough, do a quick rinse with some vinegar or lemon juice before using – this is also helpful for making French macarons!).
With that said, I have had success using Lorann super-strength flavoring oils in my Royal Icing with zero problems.
If you enjoyed this post, please consider becoming a supporter on Patreon for just $1 a month!