All work and no play makes me want to bake!
And patterned roll cakes (like this The Shining REDRUM Roll Cake!) are one of my favorite ways to serve dessert!
To say that I'm excited to share this recipe with you all is a huge understatement.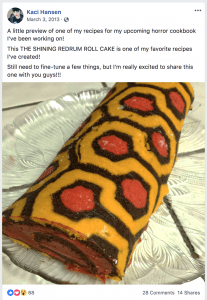 Way back in 2013, this was a recipe that I developed, tested endlessly…and then proceeded to tuck away into the binder of recipes that I planned to publish as a horror cookbook. I made a couple of teaser posts sharing the results, and figured the horror cookbook would be in your hands shortly after. I never thought that my life would become the whirlwind that it has, and long story short – the cookbook got put on a very long hiatus.
As I've been in the process of finally publishing that horror cookbook, I revisited this recipe. I was incredibly proud of it, but decided to give it a try again, more than five years later.
I ended up tweaking it even further, and coming up with a version of it that I enjoyed so much more (and fortunately, my photography skills have somewhat improved since then too…yikes!). I also was able to incorporate a product from my rum sponsor, Deadhead Rum!
I figured it would be the perfect recipe to kick off the new season of my horror cooking show with!
So I present to you, after many years of coveting the recipe and posting a few sneak peeks here and there…my REDRUM Roll Cake inspired by The Shining!
If you've watched some of my previous videos, you'll notice that my recipe for this The Shining REDRUM Roll Cake is very similar to my Friday the 13th Camp Crystal Cake.
Don't be intimidated by the design over the Overlook Hotel carpet – you just need to print out the template, and have a little patience. If you can trace a picture, you can make this The Shining REDRUM Roll Cake!
Want more recipes inspired by The Shining?
Would you give anything for a drink right now, to stop you from freezing to death out in the hedge maze? Warm up with my recipe for Hot Buttered REDRUM, also inspired by The Shining!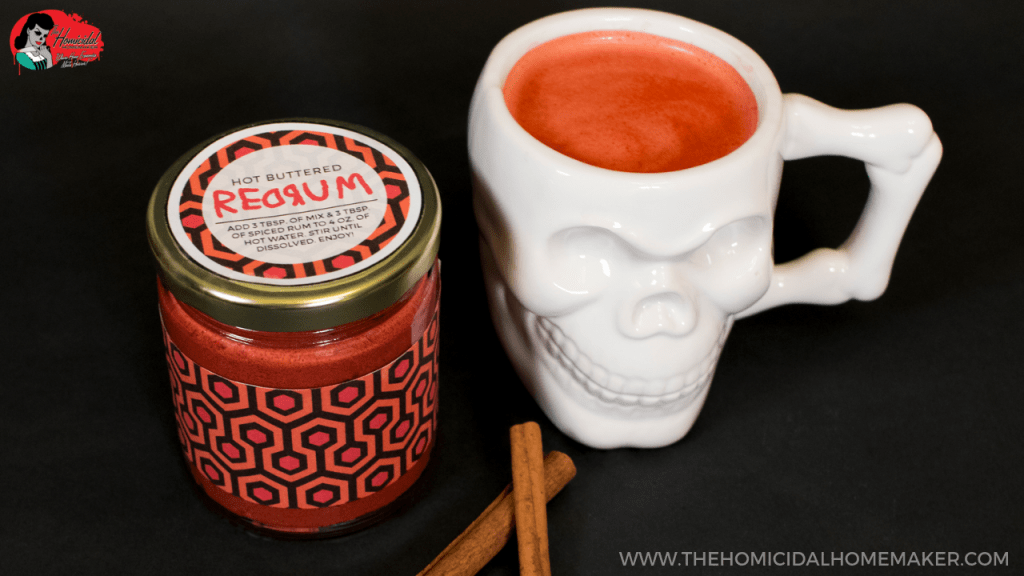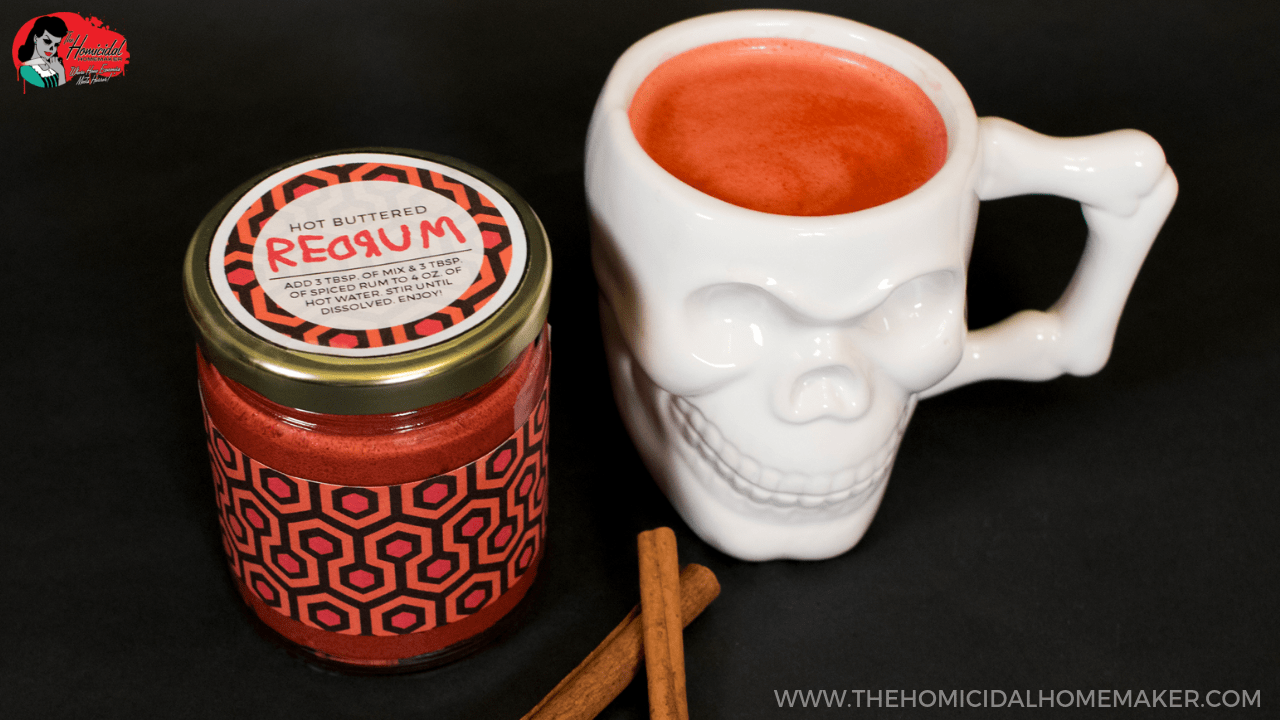 The Shining REDRUM Roll Cake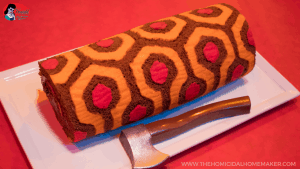 Prep Time

30 min

Cook Time

10 min

Total Time

40 min

Yield

1 Cake

Serving Size

1 slice
What You Need:
Decorating Paste
4 T melted butter
1/2 C powdered sugar
2 egg whites
1/2 C flour
Red gel food coloring
Orange gel food coloring
Cake Batter
4 large eggs
3/4 C sugar
3/4 C flour
1/4 C cocoa powder
1 t baking powder
1 T water
1 t of vanilla extract
Chocolate REDRUM Filling
1 box instant chocolate pudding mix (4 serving size)
1 pint heavy whipping cream
1/2 C powdered sugar
1/4 C dark rum (I used Deadhead Dark Chocolate Rum)
1 t vanilla extract
Red gel food coloring
Additional Supplies
Pastry bags fitted with small decorating tips (I used a basketweave and #3 round tip)
10x15 jelly roll pan (or rimmed baking sheet)
Parchment paper
Two large cookie sheets or baking trays
Nonstick cooking spray
2 copies of the Overlook Hotel carpet template
What To Do:
Prep
1
First, print out two copies of the Overlook Hotel carpet template. Tape them together, and then trim the template to fit your baking sheet.
Place it on the baking sheet, top with a sheet of parchment paper, and spray with nonstick cooking spray.
Decorating Paste
2
Make the decorating paste by combining 4 T of melted butter, 1/2 C powdered sugar, 2 egg whites, and 1/2 C flour in a bowl. Color 2/3 of the decorating paste with orange gel food coloring, and the remaining 1/3 with red gel food coloring.
Then fit your pastry bags with tips, and fill your bags with the decorating paste. For the orange, I prefer to use a basketweave tip, and for the red, a small round tip (#3).
If the paste seems a little too soft, please it in the icebox for a few minutes to help firm it up.
Begin tracing your template by first piping the orange lines, followed by the red hexagons. Use a toothpick or skewer to clean up the edges. If you mess up, don't worry! You can just wipe it away and start over.
Once you've finished piping, place the baking sheet into the freezer to harden for
about 10-15 minutes while you prepare the cake batter.
Cake Batter
3
Next, preheat your oven to 375°F.
In a small bowl, sift together the flour, cocoa powder, and baking powder.
In the bowl of a stand mixer, start beating the eggs, gradually adding the sugar while beating. Beat the mixture for about 2-3 minutes, until the eggs are foamy and light yellow in color; then add in the vanilla and one tablespoon of water.
Gradually add in the flour mixture, and mix just until smooth and combined. Don't overmix!
Remove your baking sheet from the freezer, and carefully remove the template
from beneath the parchment paper. Pour the chocolate cake batter over your design, and spread evenly with a spatula.
Bake for 8-10 minutes. Watch closely – if you over-bake it, the cake will have a tendency to crack as you roll it up.
Cake Rolling
4
Now, this next part goes fast, so get your supplies organized and ready to go.
While the cake is baking, lay two sheets of parchment paper on the
backside of two baking sheets. Dust one of them with powdered sugar.
As soon as your cake is out of the oven (I mean it – don't even give it a minute to cool!), loosen the edges with a knife or spatula, and flip the cake out
onto the powdered sugar dusted parchment sheet. Carefully remove the parchment paper the cake was baked on (where you originally piped the Overlook Hotel carpet design), cover with the other piece of parchment, and use the two baking sheets to flip the cake over.
Peel off the first piece of parchment paper (the one that you inverted your cake onto), dust the bottom of the cake with powdered sugar, and then begin to roll the short side of the cake up with the remaining sheet of parchment paper.
It is critical to do this step while the cake is hot out of the oven, so it doesn't crack. Allow to fully cool at room temperature.
Chocolate REDRUM Filling
5
While the cake is cooling, prepare the chocolate REDRUM filling.
In the bowl of stand mixer, combine the instant chocolate pudding mix and powdered sugar on low speed. Begin mixing in the heavy whipping cream and red gel food coloring, gradually increasing the speed of the mixer to medium-high until the mixture is fluffy.
Reduce the speed back to low, and add in the dark rum and vanilla extract. For this particular recipe, I used Deadhead Dark Chocolate Rum.
Assembly
6
Once the cake has completely cooled (yes, completely cooled – you don't want your filling to ooze out like the blood-elevator aka 'the river of blood' scene in The Shining), very carefully unroll the cake, and spread with the filling. You'll likely have some filling leftover (I won't judge if you eat it by the spoonful…I know I did!). Then roll the cake up again, and…you're done! I like to decorate mine with a little chocolate axe.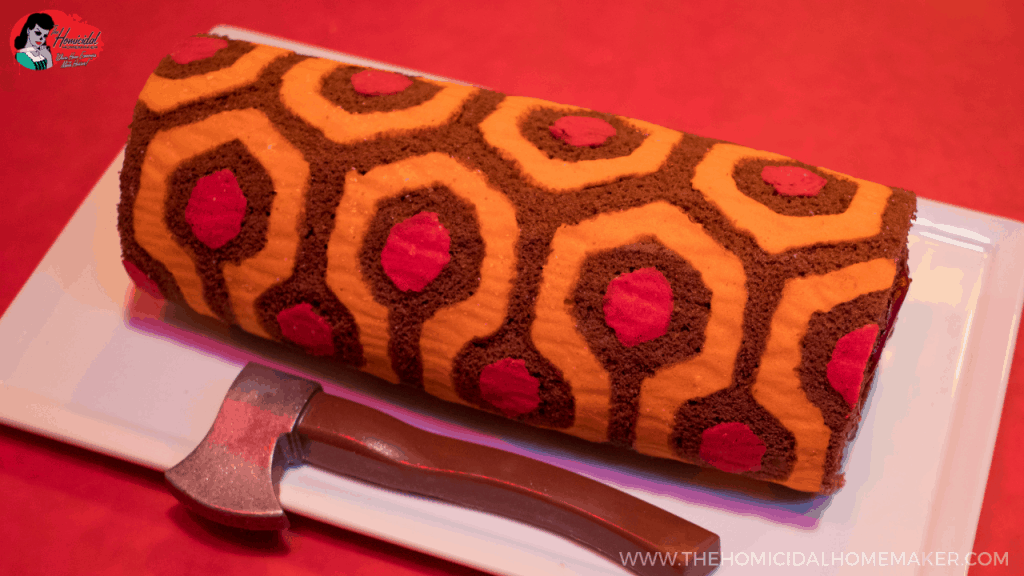 Don't forget to print out the free template of the Overlook Hotel carpet before starting.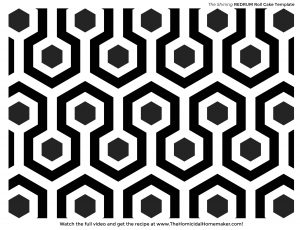 If you enjoyed this post, please consider becoming a supporter on Patreon for just $1 a month!