It's October, and I have the perfect treat to share with you, that will really make the food or candy table at your parties absolutely killer…these awesome Apothecary Jars from Sourpuss Clothing! I love decor items that are not only nice to look at, but are also practical, and these are exactly just that!

Three different designs are offered in the Sourpuss Clothing Apothecary Jars set. The thing that is really cool is that the jars can be purchased separately, so if you have your heart set on a specific one, or if you need a specific size, you can simply just buy your favorite one. They are also very inexpensive, and purchasing the entire set of them would certainly not break the bank. It's always great to invest in good-quality items when you can find them at such a great price; you can reuse them again and again, and by simply changing the contents of the jar, you can give them a totally different look each time.


---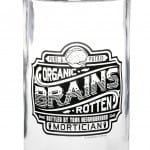 Sourpuss Brains Apothecary Jar
The Brains Apothecary Jar is the largest of the set, and, I will admit it – my favorite out of the three. I am in love with the typography on the vintage-style apothecary label, and the tagline is just genius. "Pure & Putrid, Bottled by Your Neighborhood Mortician". How fun is that?!  The Brains Apothecary Jar measures 8 3/4″ by 4 1/2″, and holds up to 50 oz.

You can purchase the Brains Apothecary Jar on Sourpuss' website for only $20.00! 
---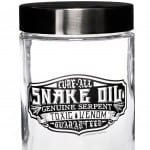 Sourpuss Snake Oil Apothecary Jar
The medium-sized jar of the trio, the Snake Oil Apothecary Jar, does not disappoint, either! Again, it is adorned with a beautiful vintage-style label printed in black. It measures 6 3/4″ by 4 1/2″, and holds 40 oz.

You can purchase the Snake Oil Apothecary Jar on Sourpuss' website for only $17.00!



---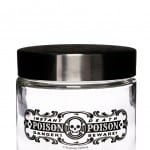 Sourpuss Poison Apothecary Jar
The smallest of the three jars is the Poison Apothecary Jar. It measures 4 3/4″ by 4 1/2″, and holds 27 oz. The label is really awesome…it has a skull and crossbones, and says "POISON" across a black vintage-style label. I especially love the 'warning' on the label: "INSTANT DEATH | DANGER: BEWARE!"

You can purchase the Poison Apothecary Jar on Sourpuss' website for only $15.00!


---

Now, let's talk about the quality of the product – not only are the labels beautiful, but the jars are extremely well-made! I own a few apothecary jars, and the glass is so thin and flimsy on them, I actually am terrified to use them at parties and events. First off, the glass on Sourpuss' Apothecary Jars is nice and thick, but not so thick that they become awkward and can't store much in them. Secondly, the bottoms have plenty of weight, so they do not tip over easily (like my other apothecary-style jars!). And third, the lids screw on securely, so that means that if you decide to put candy, liquid, or a food item inside, it will stay fresh and will not leak.

These would make the perfect addition to your Halloween festivities, but they are so beautifully made that they would be great to leave on display all year-long (as I plan to do!). You could use these in your kitchen to store dry-goods, candies, and even utensils such as cookie cutters, measuring spoons, and even various items you keep in your cabinets/drawers, like cupcake wrappers!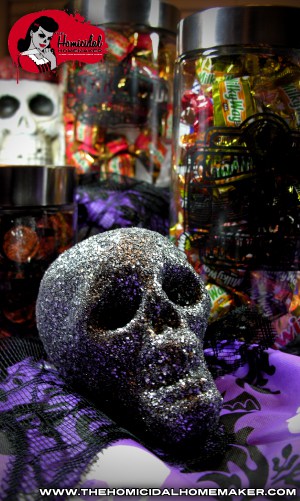 And if you're not so keen on the idea of keeping something like this in your kitchen, they'd make a great addition in pretty much any room in your household! Use them on your bathroom counter to store not-so-attractive items, such as cotton balls or swabs. Use them on your nightstand, dresser, or vanity to store jewelry or various trinkets. Honestly, the possibilities are endless! 


I have decided to use them for Halloween to display the different varieties of candy. I think the colorful wrappers of the candies look so fun and festive inside of these jars. And as soon as Halloween is over, I plan to make them a part of my every day decor in my kitchen!


---

While browsing Sourpuss' website, I fell in love with a few items (okay…not going to lie…everything on their website, haha), and wanted to do a little 'roundup' of my favorite spooky items on their site!

First off is the Lucy Fur dress. My jaw nearly hit the floor when I saw this dress! With a print inspired by vintage Halloween decorations and a sweetheart neckline, this dress will certainly turn heads!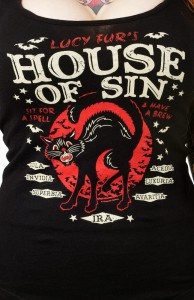 …and then there is this amazing t-shirt, that also features the Lucy Fur print.

…and they didn't stop there! They even made leggings with the Lucy Fur print.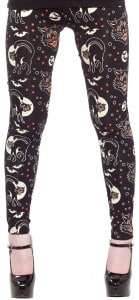 So, if you're a fan of vintage-style, or vintage Halloween decorations, one (or all!) of these items would be a great addition to your wardrobe. I plan to get all three!


 




* All opinions expressed in this post are my own.